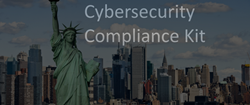 Everything you need to know about NYSDFS Cybersecurity - in One Place.
New York (PRWEB) March 22, 2017
The New York State Department of Financial Services (also known as NYS DFS) recently published its Cybersecurity Regulation for all financial services companies registered in the State of New York. The 1st milestone for compliance is due in 180 days from the effective date, September 1, 2017.
It is a first of its kind in the country, and might become a precedent for the rest of the states and also globally. It includes a mandate for setting up a formal Cybersecurity Program with a designated CISO (Chief Information Security Officer), and other requirements like doing regular risk and vulnerability assessments, limiting access privileges to critical data, maintaining an audit trail, multi-factor authentication, data encryption, cybersecurity training and more. It also applies to 3rd parties that do business with the organization.
This comprehensive compliance kit includes: Cybersecurity Regulation, Executive Overview and the Self-Assessment Tool. There is also an invite to the Experts Panel Q&A session being hosted on April 6, 2017. In addition, companies can request an exclusive one-one free consultation from the kit.
Aujas, a Global Information Risk Management Company, with a team of nearly 400 professionals, and with customers across North America, Middle-East and APAC, and with US offices in Jersey City, NJ and Cupertino, CA, have been helping with these kind of Cybersecurity and Compliance services since the company started 9 years ago.
Small and medium businesses, who might not have the right people and resources to setup a full-fledged Cybersecurity Program, might be interested in the Managed Security Office.
Srinivas Rao, the CEO says, "It is everything you will ever need, packaged into one."
To know more - visit https://www.aujas.com/new-york-department-of-financial-services-nysdfs-cyber-security-regulation-compliance-kit