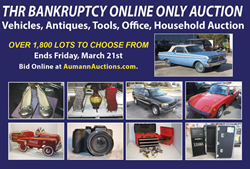 "If you missed the first series of J.Parsons THR Bankruptcy Liquidation Auctions, you cannot miss out on this FINAL EVENT!"
Springfield, IL (PRWEB) March 11, 2014
THR BANKRUPTCY: Vehicles, Antiques, Tools, Office and Household Online Only Auction is open for bidding! US Bankruptcy Court has ordered Aumann Auctions, Inc. to sell the remaining assets of THR & Associates, Inc., case number 12-7202.
On Sept. 10, 2012 Jeff Parsons, founder of Treasure Hunter Roadshow, THR & Associates, Inc., filed personal and corporate petitions for bankruptcy. Aumann Auctions, Inc. has been chosen by the Bankruptcy Court to liquidate the remaining assets from the Central Illinois warehouses. Over 1,800 lots will be sold through the convenience of online-only bidding where the public can set their own price. Kurt Aumann of Aumann Auctions, Inc. says, "This entire online auction process is set up for the ease of the public, both for individuals and wholesalers."
Just a few highlighted items: Classic 1965 Ford Falcon Convertible, Classic 1973 Porsche 914 1.7, Saab Forest Green Convertible, several trailers, Heat Pumps, Chipper/Spreaders, Tools, Commercial Fixtures, Business Equipment, Whistler Charcoal, Beirstadt Water Color, Rare Memorabilia, Coca-Cola Signs, Peddle Cars, Coins, Computers, Office Equipment, High End Fashion Clothing, 1000's of Shoes and Accessories, Brand New Household and Home Décor … the list goes on! Thomas Walsh says, "If you missed the first series of J.Parsons THR Bankruptcy Liquidation Auctions, you cannot miss out on this Final Event!"
The online-only bidding is open now and will close on March 21, 2014 at 4:00 PM. Photos, item descriptions, terms of the auction, and bidding registration are available at http://www.aumannauctions.com.
Aumann Auctions, Inc, a MarkNet Alliance member, is celebrating its 52nd year in the auction business. The company credits its success largely to referrals and repeat business with satisfied clients. Based in central Illinois, Aumann Auctions works nationwide and provides clients with a local and national presence, cutting-edge technology, an unmatched base of proven bidders, and worldwide exposure through strategic marketing.
To learn more about this important liquidation, please visit http://www.aumannauctions.com, or contact Thomas Walsh at (888) 282-8648.
Aumann Auctions, Inc. * 20114 IL Rt. 16 * Nokomis, IL 62075