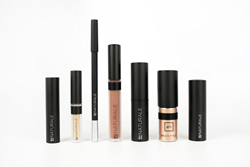 "It's important that we deliver a product I can truly stand behind. Many brands claim to be 'natural and organic' but in fact they use ingredients from labs that are not. Au Naturale is clean beauty at its best," says Prange.
Green Bay, WI (PRWEB) April 03, 2017
Natural beauty brand Au Naturale Cosmetics, reveals a new look today as they launch a new website and full brand makeover via http://www.AuNaturaleCosmetics.com.
For the past six months the team, headquartered in Green Bay, Wisconsin, has been redesigning everything from packaging to in-store displays to the brands website. Created in 2012 by Ashley Prange, a former D.C. lobbyist, Au Naturale Cosmetics has grown from 12 powder foundations to a full 200+ product cosmetic brand, offering consumers the cleanest beauty collections for face, eyes, cheeks and lips.
As the company grew, Prange felt that it was time for a brand makeover. "The past five years have been packed with love, passion and evolution as the brand has grown from my kitchen table to where it is today. I loved the original look of the brand, but I felt that as we have grown it was time to change our look and take the brand into the future," says Prange.
A New Look… Hello new logo and packaging!
One of the first elements Au Naturale looked to recreate was its logo. As a natural brand, the company felt the logo needed to convey a sense of chic simplicity. They stepped away from the script font and went with a design that paid homage to the periodic table of elements. Once the logo was selected, it was time to look at packaging – both inside and out. The new product boxes showcase Au Naturale's clean element by highlighting 'What's Inside' and 'What's Not.' The product components also received a new look with powder eye shadows changing from pots to easy-to-use roll-on applicators and all loose powders upgrading to mess-free sprayers.
"Redesigning the components was one of the most challenging parts to this project," says Prange. "I wanted to find interesting applicators and materials that were modern, functional and unique to the market. After many back and forth packages and calls with our designers, we finally landed on a collection that we love."
Ingredients 2.0… Clean Beauty at its Best!
Au Naturale Cosmetics is proud to be one of the cleanest beauty companies on the market. All products are produced in their Green Bay lab allowing the team full control over each and every item being created. Ingredients are individually sourced and must meet the brands high quality stands: paraben-free, gluten-free, animal-free, lead-free, sulfate-free, non-nano particles, fragrance-free and vegan. The newest ingredient being incorporated into the line is Palm Done Right – the first truly ethical & organic Palm Oil, which can be found as a main ingredient in su/STAIN – a matte lip stain that is launching in April.
"It's important that we deliver a product I can truly stand behind. Many brands claim to be 'natural and organic' but in fact they use ingredients from labs that are not. All of the ingredients used in Au Naturale Cosmetics are organic and Eco Cert, allowing us to say we truly are the cleanest beauty brand."
#CleanBeautyRevolution … Fighting for you!
Not only does Au Naturale Cosmetics create natural products, but they are also the leaders of a movement called the #CleanBeautyRevolution. As supporters of the Personal Care Products Safety Act, Au Naturale Cosmetics is elevating the conversation about clean beauty by advocating for the consumer's right to transparently labeled cosmetic products.
"We need to make our voice as consumers heard when it comes to better labeling of what goes into the products we put on our bodies," says Prange. "The #CleanBeautyRevlolution is a way for consumers to join the movement, showing the world that we demand a clean beauty standard and we won't stop until one have."