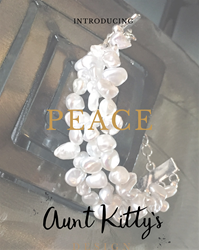 These moments of peace are so important in our lives; let's take a moment to embrace and celebrate them.
(PRWEB) November 01, 2016
Aunt Kitty's Design (http://www.auntkittysdesign.com) is pleased to announce the launch of its Peace Collection, featuring stylish gemstone and pearl jewelry that encourage the wearer to stop and smell the roses.
Aunt Kitty's Design founder/designer Kristin Sathe says, "I want everyone to be able to stop for a moment, to remember to breathe, remember to love, remember what the Christmas season is all about. These moments of peace are so important in our lives; let's take a moment to embrace and celebrate them."
Kristin designed the Peace Collection to appeal to the modern, Bohemian woman who enjoys jewelry that is classic, with a bit of gypsy flair. In keeping with the Collection's focus on caring, good will and positivity, the gemstones kunzite and chrysoprase (heart chakra), along with pearls (balance and healing) and pyrite (second and third chakras), take center stage in a carefully edited selection of necklaces, bracelets and earrings.
Collection highlights include a Kunzite and Pearl Necklace, Kunzite and Pearl Bracelet and Kunzite and Pearl Metal Bar Necklace.
Kristin describes Kunzite as, "a lovely heart based crystal that encourages the energy of love to fill your life. These stones are strong healing crystals for the emotions, and create loving relationships, as your life fills with love on all levels."
The pearl is a symbol of integrity, purity and grace and acts as a special conduit to the heavens. It is also said to help transform grief, loss, and pain and it helps resolve unsolved conflicts. Pyrite is a powerful protection stone. It enhances intelligence, mental stability, and creativity.
The Peace Collection will be sold online at http://www.auntkittysdesign.com and in limited quantities at Grace and Glam Boutique in Williston, North Dakota. Retail prices range from $29.00 to $279.00.
The collection follows on the success of the company's two previous collections, Chase the Sunset and more recently, Gypsy Soul. Chase the sunset was inspired by the stunning North Dakota sunsets and celebrates every color with an almost childlike excitement. Gypsy Soul reflects Kristin's belief that we should all "embrace our freedom to be wild and free and never stop celebrating our own uniqueness. The only rules you need to follow are your own."
Kristin handcrafts all pieces out of her studio in Williston, North Dakota using the highest quality, natural components that are ethically sourced and made with environmentally sustainable resources. Her mission is creating jewelry that is not only stylish but that offers health and wellness benefits.
Kristin has a performing arts degree from KD Studio & Conservatory College of Film and Dramatic Arts. She founded Aunt Kitty's Design in 2015, inspired by her life-long interest in fashion and her belief that certain gemstones and essential oils can affect change and give positive energy.
Designing and creating jewelry has also been therapeutic for Kristin as eleven years ago she was diagnosed with multiple sclerosis. Her nervous system was hit hard and it affected her coordination. Through her desire to create beautiful jewelry and a bit of stubbornness she has overcome what the disease tried to take away from her. A portion of every sale goes to support the MonDak Humane Society and the National Multiple Sclerosis Society.
Kristin is a member of by-invitation only The Artisan Group®. Aunt Kitty's Design has been featured on ABC, NBC, CBS, the CW and in The Boston Globe, The Miami Herald, the LA Times and Fox News.
For more information, reporters can contact Kristin Sathe using the Contact button on this press release. Become a fan on Facebook (@Auntkittysdesigns), Pinterest (@auntkittys) and Instagram (@auntkittysdesign) and follow Aunt Kittys Design on Twitter (@AuntKitty15). Shop Aunt Kitty's Design at http://www.auntkittysdesign.com.
ABOUT AUNT KITTY'S DESIGN
Aunt Kitty's Design (http://www.auntkittysdesign.com) is the place to find handcrafted, natural gemstone jewelry with contemporary Bohemian flair.