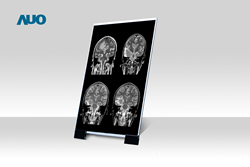 AUO's display featuring non-reflective surface, anti-glare and anti-reflection creates reading quality and exquisite image quality superior to paper.
HSINCHU, Taiwan (PRWEB) April 16, 2021
The remote working and new normal in the post-pandemic era force consumers to spend more time using electronic products. From the perspective of users, AUO delves into factors like the environment when using the screen, ergonomics and the cause of eye strain and develops the industry-leading A.R.T. (advanced reflectionless technology)(*). The display featuring non-reflective surface, anti-glare and anti-reflection creates reading quality and exquisite image quality superior to paper. To further meet user demand, in Touch Taiwan 2021, AUO integrates A.R.T. with various proprietary designs to showcase a series of eyecare solutions protecting the eyes of users who need to look at the screen for a long time, such as gamer, content creator and medical personnel.
Cutting-edge A.R.T. Technology Safeguarding Gamers' Eyes for Gaming Streaks
Focusing on the pain point of eye strain caused by looking at the screen for a long time and the need for a display featuring high image quality, high contrast and low latency, AUO leads to debut a 27-inch QHD 300Hz gaming display integrating A.R.T. and AUO proprietary Dual Drive design to effectively reduce distractions resulting from the reflection or glare of ambient light. A low latency of 1ms further ensures smooth operations and helps gamers concentrate on the competition.
A.R.T. Empowered 8K Display Showing Paper-Like High Image Quality for the Most Particular Content Creators
For workers highly stressing image details, like content creator or picture/text editor, AUO incorporates A.R.T. and LTPS processing technology with high conductivity to release the world's first(*) 32-inch 8K4K professional editing monitor panel. The 8K resolution can display ultra-high resolution of up to 275ppi, which is no inferior to printing paper with high precision. Moreover, the high penetration rate and energy-saving effect realized by a simplified circuit allow the user to review all sophisticated details when drawing, editing the video or viewing photos.
For content creators demanding touch functions, AUO integrates in-cell touch technology to release the 15.6-inch notebook PC panel featuring A.R.T. Glass technology to further upgrade panel hardness. Characteristics including excellent anti-glare property and smooth operation can fully satisfy the need of scenarios requiring touch control.
AUO Exclusive A.R.T. Glass Display Technology Facilitating Accurate Medical Diagnosis
To meet the stringent requirements of precise and high-quality image and color in medical field, AUO leads to debut the world's first(*) 21.3-inch A.R.T medical panel; the introduction of A.R.T. Glass technology as well as high-quality image display of 900 nits and high contrast of 2000:1 AHVA allows medical personnel to make more precise diagnosis when interpreting the image results of radiology and modality without being affected by ambient light, while eliminating dangers to eyesight reading for a long time. The monitor screens, adopting the A.R.T. Glass technology, make cleaning easier and prevent the screen surface from being scratched.
Unique A.R.T. Style Perfectly Merges into the Environment Showing Crystal-Clear Images Even Under Sunlight
Except for various eye care applications based on user-centric design, the unique image quality with high resolution and color saturation and the feature effectively reducing ambient light reflection make the A.R.T. technology excellent for fields with exceptional interior design requirement. For example, a smart retail vertical needs to change the panel frequently; by decorating with A.R.T. display, the content is crystal-clear and easy to read even in the outdoors with direct sunlight. The one-stop solution also allows the store to replace the painting or content at any time. For environments demanding high color accuracy, such as digital creator, printing industry, photography exhibition or painting exhibition, A.R.T. can also provide a satisfying solution.
2021 Smart Display Innovative Application Forum will be held concurrently with the exhibition. AUO Senior Associate Vice President Jennifer Lin will deliver a speech entitled "New-generation Display Technology Innovation and Cross-domain Applications" on April 22. We cordially welcome you to visit us at Touch Taiwan 2021 to experience the infinite possibilities brought by AUO technology and solution.
*Based on the available market research information as of April 15, 2021.
AUO photos can be downloaded at the Company's website:
https://auo.com/en-global/Download_Photos
Any use of photographs must cite the source thereof as AU Optronics Corporation.
###
ABOUT AU OPTRONICS
AU Optronics Corp. ("AUO") is one of the world's leading providers of optoelectronic solutions. Based on its profound R&D and manufacturing experience, AUO offers a full range of display applications and smart solutions integrating software and hardware, and leverages its core expertise to enter new business areas such as solar, smart retail, general health, circular economy and smart manufacturing service. Additionally, AUO has also been named to the Dow Jones Sustainability World Index since 2010. AUO's consolidated net revenues in 2020 were NT$270.96 billion. For more information, please visit AUO.com.
Safe Harbour Notice
AU Optronics Corp. ("AUO" or the "Company"), a global leader of TFT-LCD panels, today announced the above news. Except for statements in respect of historical matters, the statements contained in this Release include "forward-looking statements" as defined in the Private Securities Litigation Reform Act of 1995. These forward-looking statements are based on our management's expectations, projections and beliefs at the time regarding matters including, among other things, future revenues and costs, financial performance, technology changes, capacity, utilization rates, yields, process and geographical diversification, future expansion plans and business strategy. Such forward looking statements are subject to a number of known and unknown risks and uncertainties that can cause actual results to differ materially from those expressed or implied by such statements, including risks related to the flat panel display industry, the TFT-LCD market, acceptance of and demand for our products, technological and development risks, competitive factors, and other risks described in the section entitled "Risk Factors" in our Annual Report on Form 20-F filed with the United States Securities and Exchange Commission on March 27, 2020. In addition, our SEC reports, including our Annual Report on Form 20-F contains other information on these and other factors that could affect our financial results and cause actual results to differ materially from any forward-looking information we may provide. We undertake no obligation to update or revise any forward-looking statements to reflect subsequent events, new information or future circumstances.
For more information, please contact:
Corporate Communication Division
Jessie Lee Tel: +886-3-5008800 ext 3206 Email : jessie.jc.lee@auo.com
Katie Chen Tel: +886-3-5008800 ext 3615 Email : katie.chen@auo.com