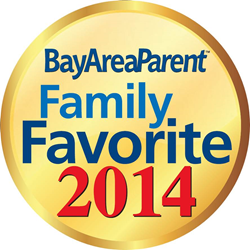 This award validates the commitment we made 25 years ago to provide affordable childcare to everyday working parents.
San Francisco (PRWEB) August 06, 2014
AuPairCare, the leading national au pair agency that matches American families with international au pairs, has won Bay Area Parent Magazine's #1 Gold Best Nanny Service for the third year in a row. The award was given throughout the Bay Area, including San Francisco, Marin, the East Bay, the Peninsula and Silicon Valley. Since 1989, San Francisco-based AuPairCare has supported American parents by matching them with international au pairs who provide quality live-in childcare. Au pairs work a flexible schedule of up to 45 hours per week, allowing families to choose childcare hours tailored to their household. AuPairCare is also affordable at a price tag of $7.75 an hour regardless of the number of children. The program is competitive with other forms of childcare, including babysitters and daycares, without the extra hassles of pickup fees and different rates for multiple children.
AuPairCare's staff was thrilled to hear that for the third year they had been voted #1 by Bay Area Parent:
"We are incredibly honored! We want to thank Bay Area Parent and local families for awarding us this recognition," said Diane Dutoit, AuPairCare's Regional Manager for Northern California. "This award validates the commitment we made 25 years ago to provide affordable childcare to everyday working parents. We truly value our families at AuPairCare, we love what we do and will continue to do it with great passion!"
All AuPairCare au pairs are carefully screened with a health and police background check, along with a psychometric test and CPR training.
"AuPairCare is proud to see the increased popularity of au pairs in the Bay Area. With many childcare options to choose from such as local nannies, daycare centers and babysitters, it is truly rewarding to know that families are embracing the affordability, flexibility, and cultural twist that come with an au pair," said Sarah McNamara, AuPairCare's Vice President. "Thank you Bay Area Parent and all of the parents who voted for AuPairCare three times in a row as the Best Nanny Service."
About AuPairCare
AuPairCare is a leading au pair agency providing affordable live-in childcare services to American families since 1989. Designated by the U.S. Department of State, AuPairCare offers superior childcare to fit families' unique needs. AuPairCare has placed more than 50,000 au pairs with American families across the U.S. AuPairCare is a division of Intrax, a family of organizations that provide a lifetime of high quality educational, work and volunteer programs that connect people and cultures. Intrax is headquartered in San Francisco with offices on four continents. To find an au pair to fit your family's needs call 1(800) 428-7247 or visit http://www.aupaircare.com.
# # #