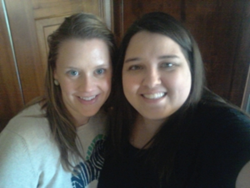 Why should your host mom receive the title of AuPairCare's Ultimate Host Mom?
San Francisco, CA (PRWEB) June 18, 2014
AuPairCare, the leading au pair agency that matches American families with international au pairs, has announced their 2014 Ultimate Host Mom. The winner is Kim, a mother of four from Minnesota who was nominated by her Brazilian au pair, Carol.
Every year, host families are given the opportunity to nominate their au pairs for AuPairCare's Ultimate Au Pair contest. This year, AuPairCare was excited to turn the tables and provide au pairs an opportunity to share their stories as to how their host moms have influenced their cultural exchange program experience.
"Why should your host mom receive the title of AuPairCare's Ultimate Host Mom?" said Joanne Krochalis, Marketing Manager for AuPairCare. "With that simple question, we received more than 140 submissions from our au pairs, but Carol's submission stood out. Her response was heartfelt with clear admiration for her host mom."
To Kim's surprise, Carol had sent a submission nominating her for the AuPairCare 2014 Ultimate Host Mom contest. In this excerpt, Carol writes about what makes Kim unique:
"With four kids, a husband, two dogs, six chickens, a horse and an Au Pair, she still find some time to help another people and do volunteer work (without mention takes care of the house and cooks really good)...Kim has the "power" to make me feel better every time that she talks to me...She worries about me in the same way that my mom does...She really deserves the title of "Ultimate Host Mom" and even if she didn't get it, for me, it is already hers. Not just the title of "Ultimate Host Mom" but as the "Ultimate Mom".
"Kim and Carol's connection was obvious to everyone from the start," shared Area Director Genene Strack, the local representative in Rochester, Minnesota who serves as a support system to families and au pairs. "The match between Kim and Carol has been one of my favorites. The immediate connection between them made for an easy orientation and alleviated the homesickness that au pairs may experience when they are away from home for the first time."
Kim and Carol's story demonstrates the deep, personal connections that AuPairCare's au pair program can create. AuPairCare is also featuring other Ultimate Host Mom submissions on the AuPairCare blog, which highlight the wonderful relationships that develop between au pairs and their host moms from all over the country.
About AuPairCare
AuPairCare is a leading au pair agency providing affordable live-in childcare services to American families since 1989. Designated by the U.S. Department of State, AuPairCare offers superior childcare to fit families' unique needs. AuPairCare has placed more than 50,000 au pairs with American families across the U.S. AuPairCare is a division of Intrax, a family of organizations that provide a lifetime of high quality educational, work and volunteer programs that connect people and cultures. Intrax is headquartered in San Francisco with offices on four continents. To find an au pair to fit your family's needs call 1(800) 428-7247 or visit http://www.aupaircare.com.
For more information please contact: Erin Tselenchuk, 925-639-7615, pr(at)aupaircare(dot)com.
# # #