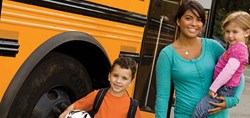 Au pairs provide an extra set of hands in September while making back to school a fun, exciting and stress-free time for the whole family.
Cambridge, MA (PRWEB) August 31, 2013
Lulled by the lazy days of summer, we forget how busy the back-to-school time can be and find ourselves wishing for a few extra hours in the day and an extra set of hands. Families with live-in childcare find that this annual transition period can be made a little easier by having their au pair or nanny help them get organized and assist with the morning routine and afterschool activities.
To help get the back to school season off to a great start, Cultural Care Au Pair offers the following suggestions for working parents:
School clothes
Did back-to-school shopping result in over-stuffed drawers and closets, filled with summer clothes and clothes that are too small? An au pair can help go through the kids' closets and have them try on clothes to figure out what clothing they have outgrown and what can go into storage. Have her make three piles of clothes: keep, put away for next summer, and donate.
Getting organized
Have an au pair or nanny help identify the place where the kids keep their lunch boxes and back packs after a day at school, along with a specific time and area where they will do their homework each day. The au pair can help remind the kids to get in the habit of emptying their lunchboxes and back packs every day. Make sure there is a place for them to leave any information and notices from school, or tests to be signed in a designated space so that to be sure they are seen.
School lunches
Have the au pair and kids plan a menu of healthy school lunches. Bento boxes are a big hit with kids – lots of little portions of different types of foods all packed together in one plastic box. Help them think beyond the traditional sandwich to things that can go into a thermos, like soups and noodles, or bringing some of last night's dinner, such as chicken or meatloaf. For an extra little surprise, download our personalized lunch box notes to sneak into their lunch boxes and brighten their days.
Morning routine
Have the au pair and kids create a school morning check list chart. Include things like: make the bed, get dressed, brush teeth, eat breakfast, pack your backpack (with school books, homework, lunch or lunch money, permission slips, etc.) Do they have to help with the family pet before they head out the door? Take allergy medication? Help a younger sibling? Add them to the checklist. Use photos of each item for younger children and have them decorate it and hang it on their door or in the kitchen.
After-school activities
Along with start of school comes the onslaught of afterschool activities. To make sure everyone knows what, when and where they are, have the au pair or nanny put all activities on the family calendar. The au pair can also help in getting kids to and from school, lessons, practices and games.
Au pairs can provide live-in child care and help with household chores related to the care of the children for up to 45 hours per week on a schedule you decide. They can give you that extra set of hands you need in September while making back to school a fun, exciting and stress-free time for the whole family!
# # #
About Cultural Care Au Pair
Cultural Care Au Pair is the leading provider of intercultural, live-in childcare in the United States. Since 1989, Cultural Care Au Pair has placed more than 95,000 au pairs in welcoming American homes. A division of EF Education, the largest private education company in the world, and a U.S. Department of State regulated program, Cultural Care Au Pair is headquartered in Cambridge, MA, with their own extensive network of recruitment, screening and orientation offices worldwide and more than 600 local coordinators across the U.S. For more information about hosting an au pair, visit http://www.culturalcare.com or call 800-333-6056.