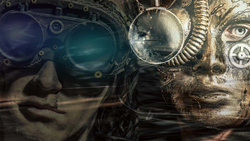 Chemtrails, emails, Dreamland, and fairy tales, geeks and freaks and WikiLeaks, move along 'til no one speaks.
Austin, Texas (PRWEB) January 12, 2017
Aural Imperative announces the music video release for their debut single, #CONSPIRACY (feat. Kurt Harland Larson of Information Society).
In today's contentious climate of uncertainty where fake news is propagated through social media echo chambers and an unrelenting 24-hour news cycle, #CONSPIRACY questions the simple ability to trust and verify information. With ever-growing concerns regarding current events, politics, and invasions of privacy, the world must maintain a vigilant watch seeking out those who are truly pulling the strings.
The song features guest vocals by Kurt Harland Larson of Information Society, best known for their breakout hit, "What's on Your Mind (Pure Energy)".
Aural Imperative is the electronic music duo of Will Loconto and Assaf Rinde. The two met in 2011 during their first collaboration composing music for the video game RAGE. Their shared passion for electronic music, complementing skill sets, and the lucky fact that they got along together led to a lasting partnership and the formation of Aural Imperative.
Will was lead vocalist/songwriter for T42 (Columbia Records) and spent several years on tour with Information Society (Tommy Boy/Reprise Records). Complimenting his work in electronic music he has contributed to many high-profile video game projects including Rayman Raving Rabbids, Aliens vs. Predator 2: Primal Hunt, American McGee's Alice, X-Men: The Official Game, and Big Hero 6: Battle in the Bay.
Assaf has scored over fifty film, television, webisode and video game projects including films The Pulse of Life, Gimme Shelter, and Amexica. He worked on such high-visibility films as Ghost Rider and Spiderman 3, and contributed music for the popular video games Rocket Toss developed by Oculus and Thor: God of Thunder. Assaf has also scored theatrical trailers for major studio films such as Tomorrowland, Jack the Giant Slayer, Now You See Me, and Pirates of the Caribbean: On Stranger Tides.