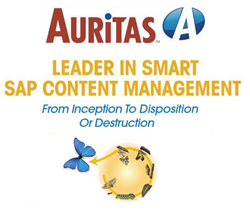 Attendees will receive a free analysis and learn how ECM strategies with data archiving can provide strong ROI including HANA savings.
(PRWEB) October 27, 2014
Auritas will be offering a complimentary ECM-ROI analysis and demos of the OpenText Enterprise Content Suite for SAP products they implement and support, including:

Extended ECM
Document Access, DocuLink and Archive Server
Content Server
Integration Center (OTIC) and Capture Center
App Governance/Archiving for SharePoint (AGA)
SAP ILM- Retention Compliance (DoD 5015.2)
Document Presentment (StreamServ)
Vendor Invoice Management (VIM)
Invoice Capture Center (ICC)
Employee File Management (EFM)
Digital Asset Management (DAM)
"We are excited to share how Auritas has worked with our customers to implement their SAP and OpenText solutions in key SAP data and content management areas of Data Archiving and HANA Readiness, BW Nearline Storage (NLS), Sybase IQ, SAP Information Lifecycle Management (ILM), Document Management and Imaging, Workflow and Mobility and Legacy System Management" said Deepak Sood, SAP Practice Director at Auritas.
"We look forward to interacting with everyone and sharing information around the theme of OpenText Enterprise World 2014: A Digital-First World "
OpenText Enterprise World partner booth and participation in this key conference is part of Auritas' commitment to keeping customers updated on the latest innovations and real life experiences while enhancing and expanding the capabilities of SAP.
During the entire conference Auritas consulting experts will also be available for complimentary one-on-one meetings to discuss specific questions and requirements for any of their expertise areas. Interested attendees can call 407-834-8324 x 1 to schedule an appointment.
About Auritas
Auritas is an established global consulting firm, SAP and OpenText partner focused on SAP Enterprise Content Management(ECM) and Information Lifecycle Management(ILM)-Data Archiving, DART, Retention Management, Document Management, Imaging, Workflow-Mobility, BW NLS and Legacy System Decommissioning. Auritas helps its clients develop an enterprise data strategy and roadmap to manage data as a key asset. Auritas' services span the entire SAP data lifecycle, from creation to migration, governance/compliance, archiving and retention management, and include implementation and support for all components of the OpenText ECM Suite for SAP. Learn more about Auritas at http://www.auritas.com.
SAP and OpenText and their products and services are trademarks or registered trademarks of their respective companies.
# # #