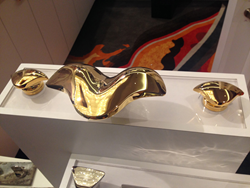 When I use a faucet, I don't want to be reminded of the pipes that bring us the water.
LA JOLLA, CA (PRWEB) October 22, 2015
Alex Miller Studio unveiled the Aurora and Sky, two new faucet collections, to members of the Decorative Plumbing and Hardware Association (DPHA) this October. Alex Miller Studio creates faucets that launch, rise, soar, float, and glide. All of its works are characterized by expressive sinuous forms and allusive imagery.
Alex Miller explains, "I learned back in architecture school that there are two types of buildings: "decorated sheds" ("decorated boxes" is what I call them) and "ducks." The boxes are the buildings that are everywhere – most of the buildings you experience are "decorated boxes." Then, there are "ducks" - ducks are expressive buildings that take on their own form. Think of a building designed by Zaha Hadid or Frank Gehry. In the faucet world, I discovered that instead of "decorated boxes," there are "decorated pipes" - this is what most faucets are. I'm not making those. I think faucets should take on their own expressive forms. When I use a faucet, I don't want to be reminded of the pipes that bring us the water. I want to imagine that the water coming out of the faucet is coming directly from the heavens. So, I started sculpting faucets that are born from the sky, born from the ocean, born out of the mist."
At the 2015 DPHA Product Showcase, Alex Miller Studio unveiled a new faucet in both the Aurora and Sky collections for the lav and roman tub, new shower systems for both collections, and a sneak peak of many more new faucet and hardware prototypes.
The Aurora faucet is the centerpiece of the bathroom. This dynamic figure rises over the sink, its form evoking imagery from both the oceans and the heavens. It commands attention.
The Sky faucet brings a burst of energy to the modern bathroom. The low profile, wide surface, and sleek diagonal form of the faucet respect its surrounding context, all while focusing the horizontal lines of the room into action.
The Aurora and Sky faucet collections will be available in luxury bath showrooms in early 2016. Visit facebook.com/Alex-Miller-Studio for updates.
Alex Miller is an artist and a licensed architect in California. He sculpts each of his original faucet designs by hand. His works are heavily influenced by nature and particularly by the Southern Californian coast that Alex calls home. He was fortunate enough to have had his early faucet designs catch the attention of American Faucet and Coatings Corporation, particularly its founder Charles Butler, who mentored the young artist in his newfound passion. In 2014, Alex Miller Studio was officially established as Alex's original sculptures transformed into working faucets.