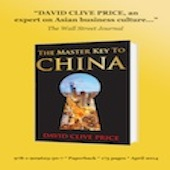 By beginning these Master Classes in Australia, I can bring the vital experience I gain to the UK and US.
London, UK (PRWEB UK) 30 July 2014
According to a Boston Consulting Group report 'Imagining Australia in the Asian Century – How Australian Business are Capturing the Asian Opportunity' (September 2012), Australia's future economy and society will be strongly engaged with Asia.
From 2001 to 2011, Australian resources exports accounted for 60% of Australia's exports to Asia. Among those Asian countries, China (40%), Japan (20%), South Korea (12%), and India (9%) bought 80% of Australia's global resource exports. However, at the same time, only 6% of all Australian overseas direct investment was invested in Asia, which means there is still a huge potential business opportunity for Australia in the Asia Pacific.
This point was recently emphasized by Alexander Downer, Australia's High Commissioner to the UK, in an interview with David Clive Price. He mentioned the cultural challenges for Australia and Australians venturing beyond Indonesia (a neighbouring country) as entrepreneurs and SMEs, even though larger Australian companies, particularly those dealing in commodities and resources, have very strong trading relationships with countries like China. He emphasized the importance of the 'Asian Century' to Australia, which has yet to acquire a full range of Asian business skills and cultural understanding of the different Asian markets like those of ASEAN.
Following this interview, it occurred to David that by beginning his joint Master Classes in Australia, which is part of Asia Pacific, he could bring the vital experiences he gained to countries further away in the West, such as the UK and US. The VIP Master Class Series will address these issues in venues located in Melbourne, Sydney and Perth from 3 to 19 September.
David Clive Price adds: "The UK, for example, would seem to have strong ties to the world's fastest growing region through the Commonwealth and past imperial experience' adds David. 'However, as several UK government ministers have pointed out, there is still a lot of complacency in the UK regarding Asia Pacific markets, which stems from lack of basic cultural knowledge and systems to acquire cultural intelligence." David says this is not simply a matter of learning a language like Putonghua, although that too is important.
"Language skills can be seconded from local partners and interpreters, at least to begin with," David continues. "What is really needed is a concerted, step-by-step system for approaching Asia's complex and diverse markets. That is what we are bringing to our Australian audiences. We firmly believe that we can also bring this systematic approach to audiences in the UK and US. Quite simply put, we aim to fulfill a global need."
For further information, please email david(at)davidcliveprice(dot)com or Success(at)AusAsiaInstitute(dot)com.
About David Clive Price
With 27 years' experience of Asia business, David Clive Price helps Western companies, SMEs and entrepreneurs to launch and expand in Asian markets. His International Business Passport consulting packages and bestselling Master Key Series of cultural primers offer proven strategies for building profitable partnerships and gaining competitive advantage. David has also published a series of travel, fiction and cultural books about Asia, including the recently published novel Chinese Walls and the travel book, Phoenix Rising: A Journey Through South Korea.