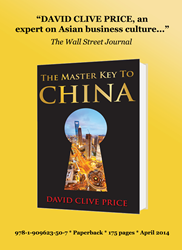 There is much work to be done to educate entrepreneurs and corporates about individual Asia Pacific countries.
London, UK (PRWEB UK) 30 June 2014
David Clive Price's mission is to raise the level of Asia Pacific knowledge in Western countries so that they can gain competitive advantage and participate in the fruits of the Asia Century. According to many recent surveys of Australian CEOs and companies, Australians lack basic training in the customs, traditions and business environments of individual Asian countries.
"In this they are not very different to fellow Caucasians in countries like the UK, Germany, Canada and US. Many business people in these countries believe that entering Asia Pacific markets will be too difficult because of the strange new worlds they have to penetrate. Others fall into the category of 'not knowing what they don't know,' which can prove damaging if they try to develop business in Asian countries without doing their homework."
Dr. Price believes that there is as much work to be done in Australasia to educate entrepreneurs and corporates about individual Asia Pacific countries like China, Japan and South Korea as there is in Europe or US. 'We have a massive shortfall in knowledge,' he says, 'and the irony is that this shortfall can be bridged by a simple systematic approach – resources, training, research, and above all courage.'
The AusAsia Institute has wide experience of arranging training workshops and seminars in Australia. Dr. Price believes the synergies with his own brand of personalized, interactive coaching, which includes his bestselling books The Master Key to Asia and The Master Key to China, will add significant value to AusAsia and contribute to the economic development of Australia. 'Quite simply put, we hope to make a positive difference,' adds Dr. Price.
ABOUT DAVID CLIVE PRICE
With 25 years' experience of Asia business, David Clive Price helps Western companies, SMEs and entrepreneurs to launch and expand in Asian markets. His International Business Passport consulting packages and bestselling Master Key Series offer proven strategies for building profitable partnerships and gaining competitive advantage.
Media Contact Info David Clive Price david(at)davidcliveprice(dot)com Location: London, UK