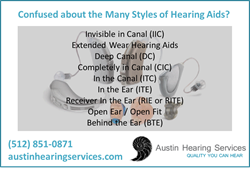 Austin, Texas (PRWEB) October 10, 2013
The numerous distinct styles of hearing aids and the numerous distinct acronyms employed to refer to them make it hard for novice buyers to perform their own research.To remove some of the frustration, Austin Hearing Services released a user-friendly guide to popular hearing aid designs and terminology online titled Hearing Aid Types, Options and Acronyms.
The list includes fundamental information on the most popular Austin TX hearing aid styles:
Behind the Ear (BTE)
Completely in Canal (CIC)
Deep Canal (DC)
Extended Wear Hearing Aids
In the Ear (ITE)
In the Canal (ITC)
Invisible in Canal (IIC)
Open Ear / Open Fit
Receiver In the Ear (RIE or RITE)
Power
It becomes instantly clear how similar many of the hearing aid names and abbreviations are when displayed alongside each other. The guide created by Austin Hearing Services is a first step in clearing up some of that confusion. At the same time, the Audiologists at Austin Hearing Services encourage any person considering a hearing aid purchase not to depend upon online research alone, but rather to make an appointment with an expert. A hearing care professional can offer advice about which hearing aid types are suitable for an individual after learning more about each person's activities and lifestyle and exactly where the hearing aid will be worn most frequently.
About Dr. Margaret Hutchinson
Austin Hearing Services was founded in 1999 by Dr. Margaret Hutchinson. Dr. Hutchinson received her Bachelor of Science (BS) degree in Biological Sciences from Southern Illinois University and a Master of Science (MS) degree in Communications Disorders from the University of Texas at Dallas. She completed her doctoral studies at the University of Texas at Dallas earning a Doctor of Philosophy (PhD) in Human Development and Communications Disorders in 1996. Dr. Hutchinson has multiple publications in the field of audiology and is a frequent conference speaker. She has been cited in Notable Women of Texas and Who's Who In Science and Engineering. The American Academy of Audiology honored Margaret with the Academy's Scholar Award in 2011. She is Board Certified in Audiology and a member of the American Auditory Society, the American Academy of Audiology, the American Speech and Hearing Association, the Academy of Rehabilitative Audiology and the Society for Neuroscience.
About Austin Hearing Services:
Austin Hearing Services has provided hearing aids in Austin TX and its surrounding communities for several years. The company offers a full range of diagnostic and preventative hearing healthcare professional services, including hearing aid screening, evaluations, hearing aids sales and rehabilitative and preventative counseling. The staff is dedicated to keeping abreast of the latest improvements in technological advancements in the hearing industry and is committed to offering the most current options to patients.
Contact:
Dr. Margaret Hutchinson
http://austinhearingservices.com
Austin Hearing Services
6805 North Capital of Texas Highway #265
Austin, TX 78731
(512) 851-0871