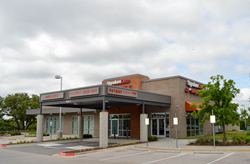 Austin, TX (PRWEB) July 25, 2017
SignatureCare Emergency Center – South Austin is treating both adult and pediatric patients with medical emergencies in the Austin, TX area 24 Hours a day.
The Emergency Room opened early March, making it the first SignatureCare Emergency Room in Austin, TX.
"We've been open four months now and things are running smoothly," said Aaron Braun, SignatureCare Emergency Center's Chief Medical Officer. "We're glad we can provide state-of-the-art medical care for Austin residents."
The Austin Emergency Room is open 24 hours to treat any major or minor medical emergency. SignatureCare accepts most major insurance plans and has some cash pay options for those who do not have insurance. Our Austin Facility is fully equipped to handle any emergency at hand. The Free-Standing Emergency Room has an on-site laboratory, and on-site imaging services such as X-rays and CT scans. All the staff at SignatureCare Emergency Centers are board-certified and can treat both adult and pediatric emergencies.
The emergency room has a little to no wait and most patients wait no more than ten minutes to be seen by one of their board certified physicians.
"Our short er wait time is what brings patients to SignatureCare Emergency Center and the level of care they receive is what brings them back," said Braun. "As a freestanding emergency room, we are able to offer a more personal degree of patient care."
For more information on SignatureCare Emergency Center – Austin visit us online
https://ercare24.com/austin/
About SignatureCare Emergency Center
Licensed by the Texas Department of Health Services, SignatureCare Emergency Centers are freestanding emergency rooms that are always open. SignatureCare has multiple locations in the Houston, Austin and College Station areas with each offering state-of-the art medical imaging, and X-rays. All of our emergency rooms are fully staffed with medical professionals, including board-certified physicians, licensed nurses, radiology technicians, and emergency-trained ancillary staff. All SignatureCare Emergency Centers are open 24/7- 365 days a year.
For more information on SignatureCare Emergency Center and its other locations visit https://www.ercare24.com.