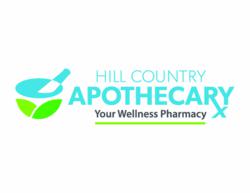 We are looking forward to serving and customizing the needs of Austin and Lakeway TX residents.
Austin, TX (PRWEB) July 11, 2013
The Hill Country Apothecary is scheduled to open a new compounding pharmacy in Lakeway, Texas (West of Austin) this fall around October, 2013. Located at the address, 1310 R.R. 620 in suite A-01, the new facility will offer a comfortable, healing environment, and customized medications for people with specific needs that big box pharmacies, and retail chains cannot attain. Hill Country Apothecary uses an innovative, in-depth approach, focused on individual customer care and attention. A patient-centered attitude, and dedication to patients' needs and community involvement, sets Hill Country apart from other pharmacies.
Unlike the typical, stale, unwelcoming designs of other pharmacies, the new location in Lakeway will have a warm, inviting interior and a healing atmosphere. Drab waiting rooms will not be a part of the apothecary's design. Instead, a coffee and juice bar, and Internet accommodations will be provided in the cozy lounge area for patients to enjoy. The experience of being provided with consultative services, or waiting for prescriptions to be filled will be one of quality customer service, free of anxiety.
The owners of Hill Country Apothecary, Adam Metcalf and Jana Downing, are also the pharmacists. Hailing from families that taught and lead in the compounding industry for 20 years, owned successful pharmacies, and are involved in their communities, both owners are carrying on the family tradition of reliable customer care. The Lakeway community will be able to experience the patient-physician-pharmacist relationship (also known as the triad relationship) that compounding pharmacy provides.
Besides the healing environment of the facility, the new compounding pharmacy will offer special medications and extensive services. Rather than merely filling prescriptions, the pharmacists at Hill Country will spend quality time with patients to find out how to best be of service. Those services include discussing healthy lifestyle methods, scheduling time with a partner nutritionist, educating patients about complications associated with medicines, talking to patients about chronic health concerns, or presenting monthly health seminars to the members of the community.
Compounding pharmacies offer a more in-depth patient experience than regular pharmacies. Rather than sending patients to a store chain, physicians might choose to send patients to a compounding pharmacy for a variety of reasons. Some patients have specific medication needs, or face challenges taking medicine by traditional methods because of their disease, or physical condition.
A doctor might recommend a compounding pharmacy because: a patient is allergic to dyes or preservatives found in mass-produced prescriptions, the specific drug that a patient needs is no longer on the market, a patient has difficulty taking a drug as prescribed and needs a different dosage administration option, patients take a large amount of medication, or patients have difficulty managing their chronic pain.
A compounding pharmacist is able to provide solutions for these patients while still following the health plan provided by their physician. A compounding pharmacy can help these patients by compounding products without offensive ingredients, ordering discontinued medication in bulk, creating custom dosage forms, combining medications into one dosage, making topical creams featuring ingredients that are normally prescribed in pill form to reduce side effects, and more.
Much like the local community pharmacists of yesteryear, compounding pharmacy is the best option for superior, individualized patient care. The industry is rapidly evolving, and Hill Country Apothecary is happy to add their newest facility to Lakeway. The new apothecary will prove to be a rewarding and profitable venture that will faithfully serve the community and all prospective patients. Hill Country looks forward to building relationships involving compassion, trust, ethical responsibility and friendship with its new patients, and looks forward to providing the most accessible and trustworthy compounding pharmacy care.
Hill Country Apothecary
1310 RR 620 South #A01
Austin, TX 78734
jdowning(at)rxhca(dot)com
ametcalf(at)rxhca(dot)com