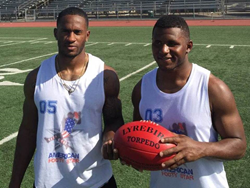 Carl and Torrey are very strong, explosive, running type players, who have the potential to develop into footy running backs or on-ballers, said Ayres, Head Coach
LOS ANGELES, CA (PRWEB) February 18, 2015
Two American Footy Star (AFS) players have earned an invitation to try out for the Port Melbourne Football Club(PMFC) after a grueling and intense season of training and learning the ways of professional football from "Down Under." The two standout AFS players bound for Australia are Former PAC-12, Washington State running back Carl Winston III, and former Dixie State University wide receiver Torrey Harkness, who will be flying to Australia to spend several weeks trying out with the Port Melbourne Football Club (PMFC). PMFC is one of the oldest and most celebrated clubs in Australia. The club was formed in 1874 and has won 16 championships in the Victorian Football League (VFL). Head Coach Gary Ayres is a five-time Australian Football League (AFL) champion, with a celebrated 15-year career at the Hawthorn Hawks.
"Carl and Torrey are very strong, explosive, running type players, who have the potential to develop into footy running backs or on-ballers. We look forward to testing them out in various positions and exploring their footy potential," said Gary Ayres, Head Coach.
While no American has ever conquered the sport of Australian Rules Football, or Footy, as it is known to millions of fans in Australia, Port Melbourne has expressed eagerness to explore untapped American talent.
"The Port Melbourne Football Club looks forward with anticipation and enthusiasm to the arrival of American Footy Star candidates Winston and Harkness. The focus from the AFL ranks in evaluating U.S. talent has primarily been with basketball players. However, the Port Melbourne Football Club in partnership with Miro Gladovic, creator of American Footy Star, is ecstatic about exploring this new approach, trying out former U.S. gridiron players," said Barry Kidd, General Manager.
Gladovic said he is delighted with the invitation from Port Melbourne Football Club.
"This is an enormous opportunity for both Winston and Harkness, who have worked tirelessly for the past six months in Los Angeles with our Head Trainer Kevin Moore, and playing USAFL Footy games. They are the ideal candidates to represent AFS and American sports, and will be great American ambassadors," said Gladovic.
In response to his upcoming tryout, Harkness said, "I'm excited to travel to Australia. It is a privilege to be invited to join the pre-season at the Port Melbourne Football Club. I am ready to demonstrate all that I have to offer through the athleticism and skills I have developed over a lifetime of playing American football, and the new footy skills I learned through AFS. I believe I will be a great fit for Port Melbourne Football Club."
"I am very excited to receive this opportunity and feel very fortunate. I'm eager to arrive in Australia and to be coached by Gary Ayres. I have learned a lot about Coach Ayres through reading and just can't wait to learn more about this great game of Footy from such a fantastic and accomplished former AFL champion. This is definitely a dream come true and something that I have worked hard for," said Winston.
Winston and Harkness will depart Los Angeles on February 18, and after several days of rest and adjusting, will commence training with Port Melbourne Football Club on Monday, February 23.
For more information about American Footy Star, visit http://www.AmericanFootyStar.com or for more information about Port Melbourne Football Club, visit http://www.portmelbournefc.com.au.
Stay connected to American Footy Star and Sport Agent Miro Gladovic on Twitter @MiroGladovic, Instagram mirogladovic and Americanfootystar.
For interviews, contact Yvette Morales with YM & Associates PR | Marketing | Branding at YMoralesY@YM-PR.com or 949-244-9769.
Yvette Morales
YM & Associates
PR | Marketing | Branding | Business Development
California | New York
949.244.9769 | 310.499.0906 Fax
YMoralesY(at)YM-PR(dot)com
@YMTheBevHillsPR
YM-PR.com