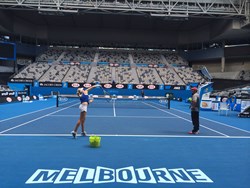 Says Bouchard, Nick has always been a tough coach on the court in drills, working on parts of my game, and I have always liked that toughness. I like to work hard. He's always had the same mentality about striving for excellence.
Plantation, FL (PRWEB) February 01, 2014
The WTA's newly created "Race to Singapore" is officially in motion as the professional tennis season moves on from Melbourne and the Australian Open. This time of year is annually full of predictions, unknowns and sure things. Thoughts and input by tennis writers and fans reveal their crystal ball mindset as to who will win the Grand Slams and reign at the top. But more important to the game and the freshly coined "Race" are the rising stars – the fire starters with ability to become the next "it girl". Within this group lies the reality for the growth of the game on the courts, in the stands and in the retail-sphere.
Is it right to look at specific players and put pressure on a select few with each progression and recession by a teenager over a strenuous season? Or can we recognize the abilities of a coach who consistently delivers a powerful product and put hope there, in his seemingly proven practices? The latter seems not only logical but also clearly definable as both the 2014 Australian Open semifinalist and 2013 WTA Newcomer of the Year, along with the 2012 Newcomer hail from the same tutelage. Respectively, Canadian #1 Eugenie Bouchard and the UK's #1, Laura Robson, can both attribute tennis success to Nick Saviano; Bouchard is a longtime student at Saviano's program while Robson has returned to prepare for the 2014 season.
No stranger to Saviano's high performance teachings, it was Coach Nick who was part of the Brit's team when, as a 14-year old, Robson won the girls title at Wimbledon in 2008.
"I first worked with [Nick] when I was 12. He's always been around and we've always chatted to him. I think he's a great coach, and I'll be in Florida quite a lot over the next year and will continue doing my training with him."
Robson was a regular at the 28-court Plantation, Florida tennis facility in the offseason, training with Saviano and new hitting/traveling coach Jesse Witten while rehabbing a troublesome wrist. The ailment fell her ranking from a high of #27 in July to a year-end #44. Said Robson this past week about her wrist, "It seems to be cleared up now. My wrist feels pretty good. It's just one of those things that a lot of tennis players have, and it comes with the territory."
Talking further about the player-coach relationship, "I think Nick's a great coach, he's fantastic with all the technical stuff," offered Robson. "I'm still at that stage where I'm developing as a player and fine-tuning small details. Nick has so much experience with that and Jesse's learning from that and we're kind of working as a unit."
"Laura went a good route changing her coach to Nick Saviano" says Hall-of-Famer Chris Evert. "I think he can help her game a lot. I have a lot of respect for him"
The Melbourne, Australia-born Robson's desires are clear, and realistic, "I would love to win a title, that is the main one [goal] and we will see how it goes."
A veteran in the Saviano camp, Bouchard heads into 2014 healthy and confident having finished 2013 as the No. 1 teenager on the tour, including an upset victory against former world no. 1 Ana Ivanovic on Centre Court in the second round of the Wimbledon Championships; Her year earning her the 2013 Canadian Press "Female Athlete of the Year" award.
Neither player nor coach shying away from extra effort, the relationship has flourished with each new goal. Says Bouchard, "Nick has always been a tough coach on the court in drills, working on parts of my game, and I have always liked that toughness. I like to work hard. He's always had the same mentality about striving for excellence."
And Coach Saviano recognizes what separates his pupil, "She's a great athlete and capitalizes on that when she's great defensively, running down balls and intimidating with her speed and athleticism. When she fully maximizes that athleticism on the court, she becomes special."
And it's not just the Bouchard's Florida posse that recognizes the unique abilities that have blossomed under Saviano. "Eugenie hits the ball really, really early, and then she changes its direction – this is her trademark and it's what makes her special," said Sylvain Bruneau, Tennis Canada's head women's national team coach, who has also worked with Bouchard and was on hand in Florida. Bruneau even reciting Bouchard's opponent's saying "…she makes the tempo so high – it's crazy, it's hell."
Further noting the Canadian's potential is Hall of Famer Martina Navratilova, calling Bouchard a "potential Grand Slam champion."
"Tennis is what I love doing, so I'm never going to get bored of it, and I'm never going to feel like I'm tired of it," says Bouchard. "I can't think of doing anything else, and I'm just going to go into every tournament with the same energy and motivation that I've always had and always will have."
Justin Gimelstob, current TV analyst and ATP Player Board Representative, sums up Saviano's coaching abilities saying "Nick Saviano is as exceptional a tennis coach as exists in the game today. He is a complete coach which is a rarity; he understands every aspect of the sport and is uniquely capable of helping his students in every way." And extending his thoughts, the former ATP pro who was a full-time Saviano student continued, "Nick is a person of great character and integrity, when combined with his technical acumen, psychological understanding, tactical expertise, and developmental knowledge creates an unmatched ability to develop and nurture talent."
Eugenie Bouchard and Laura Robson, both players having the spark and prowess to contend for WTA's next "it girl" along the Race to Singapore. As for Coach Saviano…He's simply proven to be the "it program".