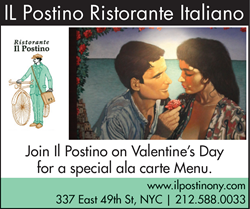 New York, NY (PRWEB) January 29, 2014
The private dining room at Il Postino Ristorante Italiano will be available for parties and celebrations this Valentine's Day. The Italian restaurant is offering a special dinner menu for those who want to enjoy the holiday in their dining room.
With a romantic and intimate atmosphere, the private dining room at Il Postino makes the perfect setting for a Valentine's Day celebration. The spacious room can accommodate up to 30 guests.
The chef at Il Postino has created a special Valentine's Day dinner menu for the occasion. This menu includes pasta dishes, such as homemade lobster ravioli, strascinati bolognese, occhi di luppo, as well as fish, such as striped bass livornese, Chilean bass, grilled blue fin tuna and more. Meat choices include grilled prime filet mignon, rack of lamb and veal chop paillard pizzaiola, among others. The season special is White Winter Truffles from Alba, Italy, available in a half or full portion. For dessert, the choices are semi – fredo amareto, apple strudel, pear cake or fresh mixed berries.
Il Postino invites the public to come and join them in their Valentine's Day celebration and enjoy all that the Italian restaurant has to offer. To make a reservation, call 212-688-0033.
About the company:
Since 1997, owners Luigi Russo and Alfio Ruocco have established Il Postino as one of the most luxurious dining experiences in New York City. Named after the 1994 Italian romantic comedy, Luigi and Alfio aspired to bring their favorite homemade dishes from Italy to their guests here on a quiet street in Midtown East. Il Postino is known for mouth-watering dishes such as the freshest Dover sole, homemade "Agnolotti" pasta stuffed with ricotta cheese and spinach in a truffle cream sauce, fresh stracciatella cheese imported from Puglia, and zucchini flowers stuffed with prosciutto and mozzarella cheese. Along with these and many other delectable dishes, Il Postino is also known for preparing "whatever you like." For authentic Italian cuisine, Il Postino is the place to go. Their polished and gracious staff will treat guests to a memorable evening. Visit their website for more information.