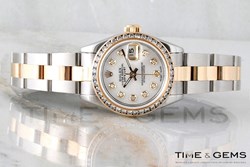 Los Angeles, California (PRWEB) November 21, 2013
Time and Gems, the world's most popular online retailer for pre-used Rolex watches, has announced the launch of its annual fall sale.
With a lineup that boasts the best of the best within the world of Rolex, buyers are eagerly clambering for the chance to own the watch of their dreams. From mint condition Rolex Day-Date models to excellent Rolex Milgauss watches, Time and Gems is proud to announce that they have something for everyone. From scientists to deep-sea divers to mountain climbers to regular Joes, Rolex has a watch that is perfect for everyone.
For over 30 years, Time and Gems have been the go-to company for pre-used Rolex watches. All of the watches come with an authenticity certificate from the Horological Appraisal Group, as well as a flexible return and exchange policy. On top of that, Time and Gems offers a comprehensive 2-year warranty that covers all irregular wear and tear.
Time and Gems understands that it can be challenging for a buyer to pick a pre-used Rolex watch online. Unlike shopping for a timepiece at a brick and mortar store, shopping online means that the buyer is unable to feel and try on the watch. Hence, the watch experts at Time and Gems have come up with a list of what buyers should do when shopping for a pre-owned Rolex watch online.
1. Determine the Budget
Before doing anything else, the buyer needs to determine how much he or she is willing to spend on the watch. According to the timepiece experts at Time and Gems, setting a budget is important as it will help narrow down the buyer's options. With hundreds of pre-used Rolex watches up for grabs on the website, knowing how much one is willing to spend will significantly reduce time and effort spent on choosing a watch.
2. Determine the Watch's Purpose
Aside from telling the time, Rolex watches are engineered to fulfill a specific purpose. For example, the Rolex Milgauss was made for those within the scientific community. This anti magnetic watch was designed for those who work in power plants, medical facilities and research labs. This is because electromagnetic fields in these places can cause certain watches to malfunction. Another example is the Rolex Submariner. Designed with deep sea divers in mind, watches from this collection can withstand depths of up to 300 meters. Other collections like the Rolex Sea Dweller and Rolex Deep Sea Dweller have a water resistance depth of up to 3,900 meters, making them the perfect watches for commercial divers.
Time and Gems is pleased to announce that their fall sale will play host to countless pre-used Rolex watches. Whether the buyer is shopping for a Rolex watch for the first time, or is a seasoned buyer, Time and Gems has it all. One of the watches currently on sale through Time and Gems is the Men's Rolex
Champagne Roman Dial Smooth Bezel Day Date President (Item #847)
Price: $11,045
Sale Price: $10,045
This leaves the buyer a total savings of $1,000.
To find out more about the other Rolex watches prices for sale during Time and Gems' fall promotion on authentic pre owned Rolex watches such as Rolex presidential series, contact the company at 1-888-658-5595 or head to their website.