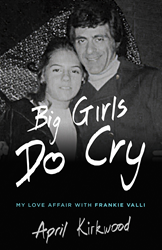 I still love Frankie. I still love the man that reminds me of Frankie but it took me down the path of having a mental breakdown, but I couldn't love myself. I absolutely am not going to let my inner child dictate to me the rest of my life any longer.
(PRWEB) August 17, 2015
There is a song by Johnny Lee that fits so many situations. You know the chorus. "I was lookin' for love in all the wrong places. Lookin' for love in too many faces..."
You could say that has been the story of April Kirkwood's life. In her new book, Big Girls Do Cry: My Love Affair with Frankie Valli, Kirkwood shares the story of the mistakes she made and the advice she hopes others will take to avoid a lifetime of heartache.
Kirkwood was just 7-years-old when she met the man she thought she would one day marry. He was none other than Frankie Valli of The Four Seasons. "I took my Ken doll and colored his hair black. I would cut out clothes to make Ken look like him. There were double-breasted jackets that were all black. I remember making him a little microphone. It just never stopped," said Kirkwood, who became so obsessed with Frankie Valli, she would go out of her way to see him every chance she got.
Kirkwood says that when she was 17-years-old, she began sleeping with Valli. "I thought I was following my heart," she said. "My gut was telling me to go for it. Well, that's actually what my inner child was telling me to do, but would you let a 7-year-old take you out on a seven-lane highway? Absolutely not, but that's what we do in romance and we don't even know we are doing it."
It didn't take long for Kirkwood to realize her "romance" with Frankie was one-sided. For one thing, the singer was already married. He was also old enough to be her father. But still, she couldn't get him out of her mind. In fact, she refers to her current boyfriend as a "Frankie Valli look-alike."
"Many, many people have a Frankie Valli. It could be a teacher, a preacher, a CEO. It could be The President of the United States. Many of us sabotage our credibility, our integrity because of our obsession with a person who couldn't be more wrong for us," said Kirkwood, who considers her book to be a cautionary tale for others who may find themselves in a situation similar to her own.
"I still love Frankie. I still love the man that reminds me of Frankie but took me down the path of having a mental breakdown, but I couldn't love myself. I absolutely am not going to let my inner child dictate to me the rest of my life any longer."
Kirkwood is now reaching out to others who have fallen into a downward spiral of heartache due to what she calls imprinting. As a keynote speaker and poster child of imprinting, Kirkwood empowers both women and men to bravely discover their secret love story guiding them into their consciousness discovering, healing, claiming the bliss of romance they deserve.
Now that her book has been published, Kirkwood is hoping it can be a catalyst for change for a lot of other women. "I would love to talk to women about the journey of healing. I would love to be invited to workshops and I would love to show you my way back because it could be your way back too," said Kirkwood, who is already hard at work on her next book, which she says will drive home the point that it is never a good idea to "put all your eggs in one basket."
Big Girls Do Cry is available for purchase in bookstores everywhere. It can also be ordered online at
Amazon.com and BarnesandNoble.com.
About the Author
April Kirkwood, M.Ed., has masters degrees in both school and mental health counseling from Youngstown State University in Youngstown, Ohio. She has worked as a social worker in an inpatient hospital, as a therapist assisting treatment teams, and has led intake, discharge, group sessions and summer programs.
Kirkwood has over 26 years experience as a middle and high teacher and counselor in both Ohio and Florida. She has worked as the dean for a guidance department of a K-8 school specializing in PBS (Positive Behavior Support) and peer mediation. As well as a lead English instructor for Broward County Schools in Florida, where she was instrumental in mentoring new staff in the area of raising freshman and sophomore state scores in reading and writing.
She also has experience leading weekly court ordered parenting classes, directed at addressing school attendance issues; and has worked with inner city families as a liaison, uniting counselors, school staff and parents.
Her new journey takes her from the shoes of educator to boots of an author and speaker, grounded in her love of the mental health field as well as sharing her personal struggles with love. Kirkwood shares insights about seldom talked about learned behaviors of 'lust' and 'romance' during critical adolescent times in the growth of each of us. This relatively untouched developmental milestone is key to raising healthy daughters and to heal areas in our own hearts and minds that keep us stuck in repeating dissatisfying romantic commitments. She has taken the road less traveled as a women's advocate bridging the world of psychology with spirituality as a therapist specializing in holistic practices empowering young and old to learn a new way of placing their hearts in the hands of the right kind of lovers.
To request a review copy of Big Girls Do Cry or arrange an interview of your own with April Kirkwood, contact Rachel M. Anderson, Publicist, at 952-240-2513 or rachel@rmapublicity.com