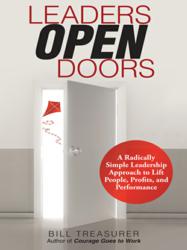 The royalty donation is the best way for the book to live its own message.
Asheville, NC (PRWEB) July 11, 2013
Area resident and nationally recognized leadership expert Bill Treasurer is giving back in more ways than one through his latest book "Leaders Open Doors" released in May 2013.
In his latest book, Treasurer, founder and Chief Encouragement Officer at Giant Leap Consulting, provides practical and powerful insight from his nearly three decades of experience for leaders to open doors of opportunities for others.
Simultaneously, Treasurer, an advocate and parent of a daughter with special needs, is seizing the opportunity to give back, by donating all royalty proceeds from Leaders Open Doors to worthy organizations that open doors for children with special needs.
Of the commitment to donating royalties, Treasurer shares in a video that many families include at least one family member with a unique disability, equaling 54 million Americans and the largest minority group in the country.
"Leaders Open Doors is about how leaders serve us best when they open doors of opportunity that help us grow. The royalty donation is the best way for the book to live its own message. Readers benefit by getting great leadership tips and the satisfaction of knowing that by purchasing they book they are literally opening doors for others."
Leaders Open Doors has received a multitude of rave reviews from leaders at all levels, including Fortune 500 CEO's and international best selling authors.
Managers as Mentors author and friend, Chip R. Bell, says of the book, "Bill Treasurer brings a powerful, practical treatment that uniquely reframes a quality still in short supply. Written with refreshing clarity, delightful humor, and profound insight, the book is a must read for all interested in successfully influencing other to deliver their best."
"Leaders Open Doors" is now available for purchase on Amazon at http://bit.ly/Leaders-Open-Doors.
Treasurer holds a Master of Science degree from the University of Wisconsin and attended West Virginia University on a full scholarship. He serves as board chairman for Leadership Asheville, is on the board of his local YMCA, and fights for the rights of people with disabilities. Most importantly, he is the father of three beautiful children, Alex, Bina, and Ian. For more information on the Asheville resident and his work, visit: http://www.leadersopendoors.com or http://www.giantleapconsulting.com.