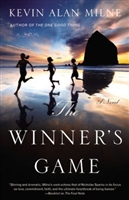 Stirring and dramatic, Milne's work echoes that of Nicholas Sparks in its focus on love, commitment, faith and the ultimate heartbreak of being human."
Portland, OR (PRWEB) May 05, 2014
Author Kevin Alan Milne ("Miln-ee") has partnered with online bookseller VJ Books to offer free book giveaways through Goodreads website for copies of his 2009 THE NINE LESSONS and 2010 SWEET MISFORTUNE.
"It is our intent to help the up-and-coming author find their place in today's ever-changing publishing world. I know that if we can get his books in front of enough people he will shine with the likes of Nicholas Sparks and Mitch Albom," said John Hutchinson, co-owner of VJ Books, a bookstore specializing in books signed by authors. "Our plan is to do future promotions on his 2013 ONE GOOD THING and 2011 THE FINAL NOTE as well."
"The major publishing houses are failing to do the "heavy-lifting" for authors," adds Virginia Lenneville, of VJ Books. "We are very passionate about supporting them and by extension, their books."
Kevin's current title is THE WINNER'S GAME and was released by Center Street publishing this month. Very popular with families as a read-aloud, THE PAPER BAG CHRISTMAS was published in 2008.
Milne earned an MBA at Pennsylvania State University. Born in Portland, Oregon, Milne grew up in Sherwood, Oregon, where he currently resides with his family. "The beauty and quiet pace of our quiet country town is inspirational and I delve deep within my heart and experiences for inspiration in all of my writing," Milne says. He also wrote the music and theme song for The Final Note titled "Heaven In Her Smile." The words and music were written by Kevin, but Nashville recording artist Eric Dodge brought the song to life when he recording it and put it on his 2011 album, "Unplugged Journey."
Summary of The Winner's Game:
Ever since seventeen-year-old Ann Bennett was diagnosed with a life-threatening heart condition two years ago, her family has been pulling apart. Ann and her two younger siblings fight constantly, as do their parents. When the doctors announce that Ann's only hope of survival is a heart transplant by the end of the summer, the Bennetts decide to wait for news of a donor at a family vacation home on the Oregon coast, near Haystack Rock. But rather than healing their differences, the time away only widens the rifts between them. That is, until they learn about The Winner's Game, a game their great grandparents invented to save their marriage decades ago. It doesn't work immediately, it takes some time to figure out the right way to play, but little by little things start to change. It seems everything might be okay, until the day tragedy strikes, and they are confronted with what it really means to love--and to be a family.
VJ Books offers signed copies of books by Kevin Alan Milne on their website.
Praise for Kevin Alan Milne
Stirring and dramatic, Milne's work echoes that of Nicholas Sparks in its focus on love, commitment, faith and the ultimate heartbreak of being human." - Booklist on THE FINAL NOTE
"Simply put, THE NINE LESSONS is a book every father and son should read. You will reflect on its powerful message long after the book return to the shelf. Guaranteed." - Jason Wright, New York times bestselling author of Recovering Charles and the Wednesday Letters
"THE PAPERBAG CHRISTMAS is one of the most inspiring and emotionally endearing books I've ever read." - Shirley Howard, president, The Children's Cancer Foundation
"THE PAPERBAG CHRISTMAS reads like a Christmas classic-warm, funny, sweet, inspiring, humbling and nostalgic." - Debra Paulk, Gift Basket Review
Alan can be reached through: kevinamilne.com
Facebook: /Kevin-Alan-Milne-Official-Fan-Page
Twitter: @kevinamilne
About VJ Books and Norwood Press:
VJ Books' customers prefer signed, collector-grade hardcover first edition books.
VJ Books has relationships with publishers, authors and their agents to provide a continuous supply of autographed new titles for our customers. Additionally, we offer an impressive selection of back list, rare, out-of-print, and special edition titles. Through our publishing company, Norwood Press, we offer specialty publications for such authors as Clive Cussler, Justin Scott, Grant Blackwood and Blake Crouch.
Contact:
Virginia Lenneville
marketing(at)vjbooks(dot)com
Facebook: vjbooks
Twitter: vjbooks