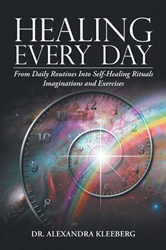 LINDAU, Germany (PRWEB) January 30, 2019
Dr. Alexandra Kleeberg returns to the publishing scene with the release of "Healing Every Day" (published by Balboa Press), a guidebook about self-healing that anyone can easily embody in their daily life.
With today's fast-paced lifestyle, Kleeberg sees in her daily self-healing groups that patients have fallen out of their natural rhythms, leading to stress, burnout and chronic diseases. One key factor to healing, according to her experience, is to get a new awareness of time and healthy rhythms.
Combining ancient wisdom and modern research, "Healing Every Day" provides imaginations and exercises that can easily be attached to daily routines without requiring more time. Simple, can be learned, free and always with a person, this method of self-healing ultimately leads to fulfillment, more available time and flow so healing becomes a habit. "Healing takes place in alignment with the rhythms around us and the rhythms that we are," Kleeberg adds.
A compendium of her research and practice, "Healing Every Day" aims to impart to readers an awareness of the deep impact of time and rhythm on their health, as well as inspire them to transform their daily routines into healing rituals. "[It is] practical guidance for more fulfillment, more time, more meaning, more health, wellbeing and joy in everyday life," Kleeberg says.
To purchase and know more about the book, readers can visit https://www.amazon.com/Healing-Every-Day-Self-Healing-Imaginations/dp/1504394445/.
"Healing Every Day"
By Alexandra Kleeberg
Hardcover | 6 x 9in | 160 pages | ISBN 9781504394444
Softcover | 6 x 9in | 160 pages | ISBN 9781504394437
E-Book | 160 pages | ISBN 9781504394420
Available at Amazon and Barnes & Noble
About the Author
Dr. Alexandra Kleeberg is a clinical psychologist, Jungian psychoanalyst, psychodrama and behavioral therapist, speaker, trainer and author. She also studied shamanism for 20 years. For the past four decades, Kleeberg explored the techniques and benefits of self-healing from ancient cultures and modern research around the world. Her system called "Self-Healing by Embody-Mental Imagination" (SHEMI) empowers people to tap into their very own power of self-healing. Kleeberg combines medicine and psychology, ancient wisdom and new research, practical experiences and enthusiastic visions to teach clients and therapists the power to self-heal. The result was her clients were inspired, empowered and felt deeply supported. Readers can know more about the author and her blog at http://www.evisionpublishing.com.