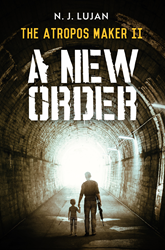 "When we accepted this life, we knew it would come with a price…Still, there are times when that cost will deplete the soul as it has mine. It leaves you wondering if the price was too much."
RALEIGH, N.C. (PRWEB) October 10, 2020
Author N.J. Lujan has released "The Atropos Maker II: A New Order," a gripping, high-octane thriller that takes readers on a heart-pounding mission through dark tunnels and bunkers to find a kidnapped boy named Charlie before it's too late.
Her name is Norma Veurr. After spending five years behind a desk as the director of the agency, Norma is compelled to take the lead of the Atropos team once again, but not before she pays for the death of a terrorist leader. Worse, it's in their hometown of Washington, DC. Soon the director of the agency uncovers who is behind the hunt for Atropos when she and members of Atropos are captured. She is brutally tortured and death comes to someone close to her heart.
It is only after defeating her captors, while in a deep state of loss, that she learns that a missing boy is a missing link to this ghastly retaliation. So begins the chase as the hunted Atropos turns the page to become yet again hunters in this sinister world of terrorists and child traffickers.
In writing "The Atropos Maker," Lujan drew from her own experience serving in the army. As a woman trained in Tactical Army Combat Systems, she felt strongly compelled to write a story with a strong female protagonist to pay tribute to the pivotal role women play in U.S. military and government agency success.
"Lujan's writing is as sharp as ever, with next to no wasted words." wrote IndieReader in their 4.6-star review. IR Verdict: A NEW ORDER is a solid sequel to N.J. Lujan's first book and a high-octane political thriller that trots the globe, from Iraqi Kurdistan to the mean streets of urban America.
"Lujan's hard-hitting story..." wrote Kirkus Reviews, then added "The hunt for terrorists as well as the search for Charlie sparks an unwavering narrative pace. Kirkus Reviews Verdict: "An entertaining, if sometimes bewildering, action tale that moves at a steady clip."
"The plot is irresistible and the visual writing makes you feel like you are there, punching alongside the team," wrote an Amazon reviewer.
With themes of survival, brotherhood, family, and duty, "The Atropos Maker" is an unforgettable sequel to an action-packed thriller series that will leave readers highly anticipating the forthcoming third sequel.
"The Atropos Maker II: A New Order"
By N.J. Lujan
ISBN: 9781735624617(softcover); 9781735624600(hardcover);9781735624624(electronic)
Available from Amazon
Soon to be released from IngramSpark, online globally