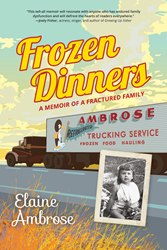 ... The memoir wouldn't leave me alone until I wrote it. I have many negative memories from childhood, but my humor and wit sustained me during the hard times. --Elaine Ambrose
DALLAS (PRWEB) November 20, 2018
Humor is a universal survival tactic--one which bestselling author, speaker, and "verified funny lady" Elaine Ambrose knows all too well. Hailing from a dysfunctional family, Elaine Ambrose is no stranger to strife. Her new release FROZEN DINNERS: A Memoir of a Fractured Family, which launches today (November 20: Brown Books Publishing Group) takes a turn from her familiar sharp humor. Her backstory sheds light on a cold childhood that would give rise to her brazen wit, resiliency, and warm spirit.
Speaking on why she chose to diverge from her humorist style, Ambrose says: "I'd rather write humor, but the memoir wouldn't leave me alone until I wrote it. I have many negative memories from childhood, but my humor and wit sustained me during the hard times."
Following World War II, the United States innovated and evolved economically in order to rebuild itself, which resulted in great success in both new and growing industries. As most families began to enjoy the new pastime of evening television, one of these burgeoning industries was that of the frozen TV dinner. Elaine's father, a farmer from Wendell, Idaho, had the audacity and vision to start his own trucking business and take hold of the opportunity this new product provided. Though his innovation ultimately led to affluence, it meant that he was often on the road, leaving Elaine's mother to act as a single parent in his absence. When he was home, Elaine clashed with her father, a steadfast traditionalist whose priorities lay in his business.
FROZEN DINNERS is a compelling, honest account of the trials and tribulations of Elaine's childhood, which was filled with hardship despite her father's success in the frozen TV dinner industry. Elaine details the struggles her family undertook under the strain of an absent father and the high tensions, familial rivalries, courtroom drama, and illness that arose after his untimely death. Her struggles solidified her stubborn independence, which Elaine credits as an asset to her success as a writer.
"Our family meals were cold – and not just because of the frozen dinners. My father was a workaholic and visionary and turned his ambition into multi-million-dollar businesses, but his extreme temperament left the family in a state of emotional paralysis. After high school graduation, I left to look for love and warmth."
Through this gripping narrative, Elaine seeks to offer hope to others who have a complicated family story. "Readers should analyze and reflect on their own lives to appreciate the talents and passion that helped them find independence, success, and happiness on their journeys," says Elaine.
For more information on FROZEN DINNERS and author Elaine Ambrose, visit http://www.elaineambrose.com.