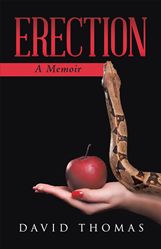 PHOENIX (PRWEB) January 07, 2019
The #MeToo and #TimesUp social movements have empowered women to add their stories to emerging news headlines, but there is still so much inappropriate sexual behavior happening below the radar and being excused as "boys will be boys," or worse, "she asked for it." Author David Thomas wants to help put a stop to it with his cautionary tale, "Erection: A Memoir."
"Erection" is a personal examination of David Thomas' life as it relates to his sexuality and how it controlled much of his behavior. Thomas examines the condition of American male sexuality and the conversations (or lack thereof) around sexuality in society. Referred to by Thomas as "thinking with my crotch," the book tells a story of the human damage ordinary men create when they follow their hormones instead of their common sense.
Clarion Reviews describes "Erection" as "a thorough, humane approach to human sexuality, seen through the lens of one man's experiences…[Thomas] focuses on men's sexual responsibility and how men can empower and dignify their sexual needs without preying on women."
Americans' reluctance to talk about sex, which they perceive as a "taboo" subject, gives permission for men to aggressively pursue sex and to avoid thoughtfully communicating about sex, sexuality, and sexual consequences of misbehavior. Thomas argues, as a male, that men must stop "thinking with their crotches" and learn to be comfortable communicating about human sexuality.
"I grew up in a household where sex was not even talked about or thought of," the author said. "Looking back on that I think that was part of the reason I went into the world so unprepared for relationships."
"Erection" also offers a male viewpoint of the #MeToo and #TimesUp movements, as Thomas has been on the offending side of a #MeToo situation. He discusses misbehavior by ordinary men that must be brought to light alongside the actions of prominent and powerful men such as Harvey Weinstein, Justice Brett Kavanaugh, Matt Lauer and many others.
"As men, we need to start taking responsibility for our own actions, rather than blaming the woman who wears short skirts, drinks alcohol or goes out at night," Thomas said.
"Erection: A Memoir"
By David Thomas
ISBN: 978-1532050022 (softcover); 978-1532050015 (hardcover); 978-1532050039 (electronic)
Available at the iUniverse Online Bookstore and Amazon
About the author
David Thomas is a retired professor and higher education administrator. He has published over twenty books, and he has three children and lives with his wife in the Midwest. In "Erection," he chronicles his candid and personal story of sexual misconduct, and he urges other erection-driven men to reflect on their sexuality and communicate about it with their partners and families. To learn more, please visit https://www.erectionthebook.com.