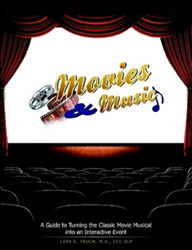 ODESSA, Fla. (PRWEB) August 21, 2019
Lori K. Yauch, M.A., CCC-SLP, makes use of classic movie musicals to stimulate communication and interaction through shared viewing of films in her book, "Movies and Music: A Guide to Turning the Classic Movie Musical into an Interactive Event" (published by Lulu). Yauch hopes to promote intergenerational interaction between adults and children and is embarking on a marketing campaign to expand her book's reach.
"Families, teachers, and clinicians need practical tools to interact with loved ones, students, and patients across a continuum of needs," Yauch says. "This guidebook facilitates interaction with those experiencing cognitive-communication changes due to age or neurologic insult as well as students needing instruction in pragmatic language/social skills."
The reader will find an overview, trivia and suggested discussion topics for each film. Questions are provided to facilitate exchange and encourage thought-provoking conversation. "Movies and Music" is available for purchase at: https://www.amazon.com/Movies-Music-Turning-Classic-Interactive/dp/1483434508.
Yauch adds, "I hope that users of this guidebook will find enjoyment in the activity, discover shared memories, learn something new and discover universal themes that unite individuals of all ages."
Praise for "Movies and Music"
"As a Life Enrichment Director, having tools that provide engagement and stimulate conversation and memories are so helpful! Movies and Music provides a fun and engaging activity for everyone," Nicole Will, Founder, willGather.com
"Movies and Music"
By Lori K. Yauch, M.A., CCC-SLP
Softcover | 8.5 x 11 in | 128 pages | ISBN 9781483434506
E-Book | 128 pages | ISBN 9781483434490
About the Author
Lori K. Yauch, M.A., CCC-SLP, attended Michigan State University for her undergraduate work in audiology and speech sciences. She completed her master's degree at Eastern Michigan University in speech language pathology. Yauch is a speech-language pathologist with over 29 years of experience working with the aging population. She specializes in reminiscence as an avenue to promote communication and has authored books and lectured on the subject. She has worked in a variety of settings, from schools to hospitals to sub-acute rehab and long-term care centers. Her expertise includes cognitive-linguistic treatment, dementia management and dysphagia. She presented at the 2016 Florida Speech and Hearing Association Convention. Yauch has also written "Movies and Music: A Clinician's Guide to the Classic Movie Musical and Group Activity," a series of personalized memory books called "The ABOUT Books" and "A Personal Family History of Lasting Memories." More information is available at: http://www.moviesandmusic.biz.
Lulu empowers people of all ages to explore and express their interests, passions and expertise through books, photography and art. Since introducing self-publishing in 2002, Lulu has empowered creators in more than 225 countries and territories to produce nearly two million publications. Lulu Jr. allows children to become published authors, encouraging creativity, strengthening literacy and building self-esteem. Picture.com offers professional photography of collegiate and professional sports, memorable and historic events, fine art and home décor. For more information, please visit lulu.com.