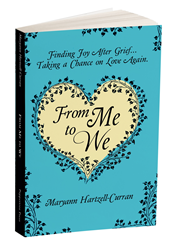 Her philosophy of grief is unique in that she does not believe there is a timeline. She explains, "I believe grief is a process."
TAMPA, Fla. (PRWEB) May 04, 2019
Author Maryann Hartzell-Curran has released a new book, From Me to We, which is a compilation of stories and advice created to guide widows and widowers through the process of grief, offering advice on how to find joy, and maybe love, again.
Her first book, From We to Me, released in 2013, was a journey through the author's first year of being a widow, as told in a series of letters to her friend. In this new book, From Me to We, Maryann poignantly shares her experiences, mistakes and achievements in cultivating personal relationships after that first year as a widow as she began to emerge from mourning and venture into life as a single person. Maryann describes the goal of From Me to We as a realization for readers that, "First that they are not alone. My experiences are not unique, and theirs will be similar. I talk a lot about emotions, the importance of feeling grief and taking good care of yourself. I give suggestions about what worked and didn't work for me, hoping again that it can be a teaching experience. I remind them that if their loved ones could be here, they would be, and they would want them to be happy. Secondly, I examine feelings like guilt, anger, loss, regret and worry. Prayer becomes a huge part of recovery, and in order to "move on," you have to keep your sense of humor when the chips are down."
The author taught both Special Education and Preschool in metro Chicago. She has a master's degree in counseling psychology and leads grief groups in communities on Florida's east coast. Her philosophy of grief is unique in that she does not believe there is a timeline. She explains, "I believe grief is a process. Some people do not go through all the stages of grief but spend time in one or more for longer periods of time. It's important not to get stuck in the "stages," but rather use them as a guideline."
From Me to We is being published by Peppertree Publishing and is available at Amazon and Barnes and Noble in both paperback and Kindle versions.
Paperback: 5.5"x8.5" 133 pages
Publisher: The Peppertree Press (April 3, 2019)
Language: English
ISBN: 978-1-61493-639-8
About Author Maryann Hartzell-Curran
Maryann was married to her high school sweetheart for 32 years before she was widowed. Four years later, she learned a lot about herself as a widow and eventually remarried. She and her second husband have lived in Florida for 16 years. The author is a former teacher and counselor and now is a public speaker and conducts grief workshops using a curriculum she wrote, Moving On. For more information about the author, visit http://www.MaryannCurran.com
About the Publisher
The Peppertree Press, located in Sarasota, Florida, is an independent publisher created to help authors navigate the ever-changing terrain of book publishing. With a growing international presence, The Peppertree Press has published a number of award-winning books which have been recognized by such prestigious awards programs as the Readers' Choice Awards, the Royal Palms Literary Awards, and the Mom's Choice Awards. The Peppertree Press is located at 1269 First Street, Suite 7 in Sarasota, Florida 34236 and can be reached at (941) 922-2662 or http://www.peppertreepublishing.com.