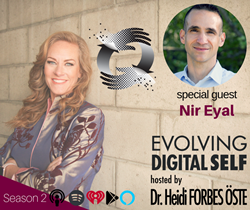 "Influencers in digital wellbeing and ethics need to unite to create frameworks that make it easier to building things we won't regret in the future." - Dr. Heidi Forbes Öste
SAN FRANCISCO (PRWEB) January 31, 2019
In a new episode of Evolving Digital Self, Author of Hooked: How To Build Habit-Forming Products, Nir Eyal, joins Dr. Heidi Forbes Öste for a conversation on digital wellbeing and ethics (EvolvingDigitalSelf.com). The new episode launches Feb. 5. Check it out on http://www.EvolvingDigitalSelf.com.
According to Nir Eyal: Ingrained habits are behaviors done with little or no conscious thought. They guide more than half our actions each day. When the brain uses shortcuts and stops actively thinking about what to do next, we have formed a habit. Most of us know, habits can be positive and healthy or negative and destructive. Research has shown that technology has been shown to be "habit" forming to our brains, but is it a healthy habit, or a path to destructive tendencies? Dr. Forbes Öste explained, talking about the role of habit-forming products is important because, "influencers in digital wellbeing and ethics need to unite to create frameworks that make it easier to build things we won't regret in the future."
Nir Eyal specializes in understanding the psychology of building addictive products, while Dr. Forbes Öste shares her message of keeping balance and humanity, as well as a focus on digital wellbeing in the forefront of technological development.
Visit Evolving Digital Self Feb 5, to listen to the new episode at: http://www.EvolvingDigitalSelf.com.
Learn More About the Evolving Digital Self Podcast
The Evolving Digital Self podcast focuses on conversations with thought leaders on the impact of our relationship with rapidly evolving technology, exploring conscious use of technology in order to thrive in the new landscape. Weekly interviews on the Evolving Digital Self podcast talk with guests like Brian Solis on Digital Darwinism, Michele McCormack on Blockchain and CastingCoin, Jeff Tambor on the Tech Nation, Susan McPherson on Social Impact and more. Podcast episodes are available on iTunes, Spotify, GooglePlay and most podcasting apps.
About Dr. Heidi Forbes Öste
Dr. Heidi Forbes Öste is a Behavioral Scientist, bestselling Author of the Digital Self Mastery series and Executive Producer of the Evolving Digital Self podcast. She combines 25 years' experience in social strategy consulting with her scholarly research in the human relationship with technology and her personal passion for wellbeing. She holds several advisory roles as an expert on strategic integration of digital wellbeing and ethics to support the transition into the digital era without losing humanity in the process.
To learn more about working with Dr. Heidi please send an email to: DrHeidi(at)ForbesOste(dot)com. To book Dr. Heidi to speak at your event or organization, please contact Toby at: Toby(at)ChartwellSpeakers(dot)com.
2BalanceU Contact Information
Website: http://2BalanceU.com
Facebook: https://www.facebook.com/DrForbesOste/
Twitter: http://www.twitter.com/forbesoste