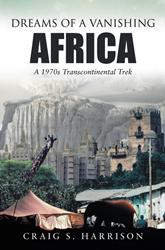 By any measure, that year in Africa was the grand adventure of my life – and in telling the tale, it has been a joy to relive it.
SANTA ROSA, Calif. (PRWEB) September 09, 2019
Biologist, lawyer and author Craig S. Harrison has published his exciting, year-long chronicle of his first taste of Africa's natural beauty, rich cultures and diverse wildlife. In "Dreams of a Vanishing Africa," Harrison offers a nostalgic glimpse at what Africa once was and reflects on how the continent has evolved today in the wake of political unrest and social turmoil. From a conservation perspective, some species native to Africa have begun to disappear entirely.
Traveling on a shoestring within the fabric of African societies from 1971 to 1972, Harrison shares with readers how he arrived in Spanish Sahara on a cargo ship from the Canary Islands and trekked through Mauritania, Senegal, Gambia, Mali, Upper Volta and Ghana. From Accra, he took a freighter to the Congo to journey overland to Kenya, Rwanda, Uganda and Tanzania. After five months in East Africa, Harrison returned to Europe via Ethiopia, Sudan and Egypt.
Often avoiding safe, well-trodden routes during his journey, Harrison instead depended on decrepit trains, cargo trucks, rattletrap buses, jammed bush taxis, dugout canoes and ferries. He also often dealt with delays and dismaying circumstances that would have sent most others home; but he stuck it out, enjoying colorful encounters with ordinary Africans and fellow adventurers along the way.
"By any measure, that year in Africa was the grand adventure of my life – and in telling the tale, it has been a joy to relive it," Harrison wrote in the introduction of his book.
Peppered with an eclectic mix of photographs from his experiences, "Dreams of a Vanishing Africa" showcases Africa's tremendous natural beauty and wealth of culture. It inspires readers to push their personal comfort zones to seek travel experiences that deviate from conventional tourism and shares Harrison's marvelous adventure as a young man hitchhiking across Africa and how his experiences provided a sound foundation for his entire life.
"Dreams of a Vanishing Africa: A 1970s Transcontinental Trek"
By Craig S. Harrison
ISBN: 978-1-4834-94996-3 (color hardcover); 978-1-4834-9456-2 (color softcover); 978-1-6847-0249-7 (b&w hardcover); 978-1-4834-9749-5 (b&w softcover); 978-1-4834-9458-6 (e-book)
Available through Lulu and Amazon
About the author
Craig S. Harrison is a biologist and lawyer. Harrison holds a bachelor's degree in biochemistry from the University of California, Berkeley, a master's degree in biology from Humboldt State University and a Juris Doctor degree from the University of Hawaii. With a lifelong passion for adventure and nature, Harrison has traveled the remote parts of all seven continents to see and photograph wildlife. His 10 trips to Africa and Madagascar have included 40 parks. Harrison is one of the founders of the American Bird Conservancy, and he is also the author of "Seabirds of Hawaii: Natural History and Conservation". He currently resides in Santa Rosa, Calif. To learn more, please visit http://www.craigsharrison.net.
General Inquiries, Review Copies and Interview Requests:
LAVIDGE – Phoenix
Danielle Grobmeier
480-648-7557
dgrobmeier(at)lavidge(dot)com