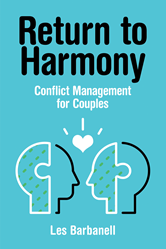 FORT LEE, N.J. (PRWEB) June 10, 2019
The number one cause of divorce and breakups among non-marrieds is the lack of one or both partner's ability to communicate on an emotional level. Disputes regarding finances, sex, children, infidelity and in-laws are common, but, Dr. Barbanell asserts that the fundamental problem is how couples use emotions to negotiate these and other matters.
In "Return to Harmony," Barbanell introduces readers to an abundance of unique concepts and innovative techniques including "Couplethink," (versus "Me-think"), "The No-Fault Conflict Mindset," and active "Tools of Engagement," to help partners successfully navigate the relationship minefield. In addition, he debunks long-standing, cherished beliefs and truisms that derail the path to mature, enduring love.
Finally, the book provides an invaluable bonus for readers---a self-rating scale that pinpoints each partner's strengths and weaknesses in an intimate partner setting. The scale actually yields both individual and couple intelligence scores (CQ), an original idea comparable to traditional IQ scores.
"Return to Harmony: Conflict Management for Couples"
By Les Barbanell
ISBN: 9781480867147 (softcover); 9781480867154 (hardcover); 9781480867130 (electronic)
Available through Archway Publishing and Amazon
About the author
Les Barbanell is a licensed psychologist practicing in Fort Lee, N.J. and has authored several books on personality disorders and multiple articles on subjects that include psychotherapy, group therapy and sports psychology. He received his Ed.D from Columbia University and underwent post-doctoral training in New York and New Jersey. Barbanell is a member of the New Jersey Psychological Association, a Diplomate of the American Psychotherapy Association and member of the American Association of Journalists and Authors. He is also an accomplished athlete, songwriter and professional singer. For more information please visit http://www.psychologistdynam.com.
For Interview & Review Copy Requests:
LAVIDGE – Phoenix
Danielle Grobmeier
480-998-2600x557
dgrobmeier@lavidge.com
For General Inquires:
LAVIDGE – Phoenix
Lauren Dickerson
480-998-2600x601
ldickerson@lavidge.com