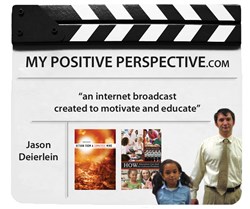 God has shown that he is control of the weather.
Charleston, SC (PRWEB) January 28, 2014
On January 27, 2014, My Positive Perspective host Jason Deierlein was joined by fellow published author Gordon Cashwell for an episode that would showcase both of the authors' books. As the episode began, Deierlein stated, "As most of you know, I published a book called Return From a Comatose Mind, a book that describes my car accident, subsequent coma, and journey towards recovery. The book became the beginning for what is now My Positive Perspective. On this episode, I'm joined by another published author, Gordon Cashwell."
Cashwell begins describe his book saying, "I'm a pastor, I believe in God and one day I had a revelation about kids bringing me gardens. I contacted Clemson University and looked into what I could do about this. I contacted the appropriate person at Clemson who actually first thought I was her gardener. I then contacted somebody who had extra rain barrels and struggled to find out what to do with them. Realizing then that this was God's work and he wanted me to be prepared for catastrophe."
Cashewell continues, "We're not doing the right things with Church, we're not doing what the Bible tells us to do and that is what my book is about, The Coming Storm. God has shown that he is in control of the weather and economic collapses. I think we are in store for more of this if our society doesn't change."
My Positive Perspective is a media outlet believing that improvement in our community will be best achieved by focusing on the good things happening in our world today. Having survived a near fatal car accident as a youth, a shift of perception forced one to have a mentality of always concentrating on the brighter sides of things. This was true, and in my book, Return From a Comatose Mind, this belief was put to the test. Appreciation for life was the biggest thing one took away from my brush with death, and it is because of that gives me such a huge desire to be helpful to many. My Positive Perspective is a way of overcoming challenges through positive thinking.