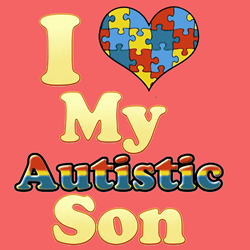 Experienced T-Shirt Company La La Land Shirts has released a new autism awareness shirt and is offering free shipping to the first 50 people to purchase it.
St. Louis, MO (PRWEB) May 29, 2015
Based in St. Louis, Missouri La La Land Shirts has been selling autism awareness shirts for a couple of months now and are really helping spread awareness and start conversations. Their latest release, which reads "I'm not misbehaving, I have Autism, please be understanding" is actually meant to be worn by the parent's of an autistic child in order to start a conversation and ultimately lead to better understanding of autism.
Not only are they raising awareness through the autism awareness shirts which can be found at their storefront, but they also have a Facebook page that is growing everyday and a brand new Instagram page that just started 2 days ago and has over 250 followers already. Raising awareness through social media is the goal here, which is why the autism awareness shirts are so cheap for the consumer.
Autism is very misunderstood and the owners of La La Land Shirts believe it is an important topic that needs more attention paid to it. "Making t-shirts and spreading autism awareness is important, because it will help start conversations about the topic," said a spokesperson from La La Land Shirts.
Most all of the shirts have received a warm welcome, however some have sold better than others. It seems as though the shirts geared towards boys sell better since statistically more boys have autism or at least are diagnosed with it.
Offering free shipping will hopefully encourage more parents to purchase this shirt and wear it around those people who simply do not understand why their kids act the way they do. This shirt will help them start a conversation and hopefully help others gain some understanding in the process.
You can take a look at the Autism Awareness Store that La La Land Shirts has been set up on Teespring and get an idea of the new T-Shirt designs.
For more information, visit http://lalalandshirts.com.
About La La Land Shirts:
La La Land Shirts is a company that has been around since 2007 and is committed to making shirts that appeal to a wide range of people. They are principled, trustworthy and continuously strive to improve themselves and their customer experience. By adding motivational workout shirts, music shirts, crazy shirts and Hillary Clinton shirts to their repertoire, they are trying to cater to a larger and larger crowd.