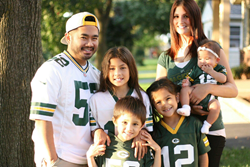 We've seen miraculous progress for autistic children that take part in the Easter Seals program, and we're working to make sure all autistic children in Wisconsin enjoy the same opportunity
Waukesha, WI (PRWEB) March 22, 2016
The Scott Campbell Agency, a family owned insurance firm that provides coverage to residents and businesses throughout southern Wisconsin, is initiating a cooperative charity drive with Easter Seals Autism Services that will provide funding for programs that assist local families raising autistic children.
The Autism Services provided by Easter Seals have been especially helpful for children like Roman, a local five year old diagnosed with autism. "When Roman started his therapy, he didn't play with his sisters. He had difficulty communicating and had a high level of frustration," said Roman's father. Since taking part in the Easter Seals autism program, Roman now plays with his sisters on a regular basis, even calling them to join his therapy sessions.
"We've seen miraculous progress for autistic children that take part in the Easter Seals program, and we're working to make sure all autistic children in Wisconsin enjoy the same opportunity," says Scott Campbell, founder and director of the Scott Campbell Agency.
Joined by his professional team, Campbell is constructing an online social media page and sending out email bulletins to notify local families about the charity drive. The Scott Campbell Agency will also be featuring the charity drive in this month's issue of the firm's online magazine "Our Hometown": http://www.scottcampbellinsurance.com/Our-Hometown-Magazine_48.
Easter Seals is only the latest of more than half a dozen charities supported by the Scott Campbell Agency over the last year. As part of a permanent community involvement policy, the firm will continue to find and work with a new Wisconsin charity every other month.
Readers who want to join Campbell and his team during the Easter Seals charity event are encouraged to visit the Scott Campbell Agency website and make a contribution to the cause here: http://www.scottcampbellinsurance.com/A-World-Full-of-Possibilities-for-Little-Roman_22_community_cause. Readers who wish to find out more about other Wisconsin charities that have been previously supported by the Scott Campbell Agency can browse the firm's Community Cause list here: http://www.scottcampbellinsurance.com/community-cause.
About Scott Campbell Agency
As a Personal Finance Representative in Wisconsin, agency owner Scott Campbell knows many local families. A knowledge and understanding of the people in his community helps provide Campbell clients with an outstanding level of service. Scott and his team look forward to helping clients protect the things that are important to them, like their family, home, car and much more. They can also help clients formulate a strategy to achieve their financial goals. To contact a helpful expert from Scott Campbell Insurance, visit http://www.scottcampbellinsurance.com/ or call (262) 548-3800.