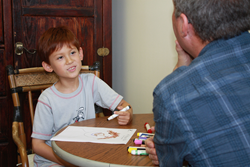 Buena Park, CA (PRWEB) July 22, 2016
Sometimes a child seems to be developing normally and suddenly stops learning new words or worse, stops speaking at all. In older children signs of autism might include difficulty socializing or unusual or obsessive behavior during play. If a parent or caregiver suspects autism, where can they go to rule out or confirm their suspicion? The truth is that getting an autism evaluation isn't always that easy. While primary care physicians can diagnose, many refer to specialists and there are a limited number of specialty providers to meet the demand.
One in 68 children will be diagnosed with autism in the U.S. and early diagnosis and intervention can improve outcomes dramatically. Nobody knows that better than Speech and Language Development Center (SLDC) which offers autism evaluations at their new assessment center.
SLDC is a special education school and therapy center for children with autism and other disabilities that serves clients six months through 21 years. The Center has been helping kids for 60 years and has seen many examples of the impact of early intervention. Autism evaluations are performed by a neuropsychologist who is on staff at the Center and include parent consultation and follow up, two hours of observation and conclude with comprehensive recommendations. The Center has the unique advantage of having experts in multiple fields on-site, allowing for a collaborative approach to evaluation and treatment.
About Speech and Language Development Center:
Speech and Language Development Center is a nonprofit school and therapy center serving children and young adults, age six months through 21 years. Drawing on 60 years of knowledge, skill and success, SLDC provides remediation for language/learning, emotional/social and neurologically-based needs to students with a broad range of diagnoses. The majority have a diagnosis of autism spectrum disorder. The Center is certified by the California State Department of Education and licensed by the California State Department of Social Services. For more information, see http://www.sldc.net.