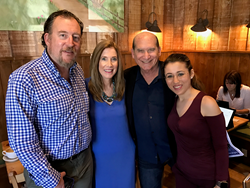 We're excited to support Autfest and honor Autism Leader Matt Asner to raise autism awareness. ~ Autism Guardian Angels Founder David Luber
Santa Monica, CA (PRWEB) April 05, 2017
Autism Guardian Angels ("AGA") launches with an Autism Awareness Campaign in April 2017, which includes sponsoring the Autism Society of America (ASA) Autfest on April 22-23. This AGA Autism Awareness Campaign will include a social media marketing campaign, an iPad Sweepstakes, Autfest Gold Sponsorship and Golden Goody Award (top humanitarian award sponsored by AGA) that will be presented to ASA VP of Development Matt Asner on April 23.
With 1 in 68 U.S. children estimated now to be born on the autism spectrum (CDC 2014), Autism Guardian Angels mission is to "bring out the brilliance in exceptional children with autism by investing in tools that increase their smiles, confidence and independence."
David Luber, Autism Guardian Angels Founder, has put together a team that includes members of his long-term collaborative real estate development business practice, autism guardians and autism professionals to review products and make direct investments in behavioral technology, initially focused on tools for children with autism. Over the past twelve months, AGA has worked closely with researchers and developers from Silicon Valley to Silicon Beach and more. AGA is getting close to funding a series of products and services that are "market ready" and intended to make a real difference in the lives of the kids and their families.
Mr. Luber emphasized, "We're excited to support Autfest and honor Autism Leader Matt Asner to raise autism awareness. AGA believes children with autism can positively impact humanity in many ways, including as a filmmaker with a powerful story or as a scientist who solves major problems such as curing cancer, given the right tools."
As a Gold Sponsor of Autfest (April 22-23, AMC 30 Block of Orange, 20 City Blvd W, Ste E, Orange, CA, 92868), Autism Guardian Angels is honored to support ASA's Autfest goal: "To increase awareness of autism through the medium of film in order to promote a greater knowledge of the important value of individuals with autism."
"We'd like to thank Autism Guardian Angels for their Autfest sponsorship, and we're excited to be part of their Autism Awareness Campaign. Our missions are both focused on improving the lives of those affected by autism, and together, we look forward to making a real difference. " ~ Matt Asner, Autism Society of America, VP of Development
Autfest will also honor Oscar winning filmmaker Ben Affleck ("The Accountant"), and there will be a special screening and Q&A of this film. Autism Guardian Angels Founder, Mr. Luber praised the movie; "'The Accountant', while promoted as an action thriller by Hollywood, has a profound underlying story that highlights two autistic children working together over a lifetime to solve a puzzle. The opening and closing scenes of the movie between these two individuals are particularly moving and give a real insight into what emerging technology can do to provide impactful benefits to the autistic community. It is the goal of AGA to help autistic kids excel as individuals, along with helping them work together for the greater good."
Many autistic filmmaker teams will be featured at Autfest, including Animator Dani Bowman and Writer, Director, Composer, Editor and Producer Keaton Bicknell, who will show their short film; "The Adventures of Pelican Pete".
As part of this Autism Awareness Campaign, AGA will also promote the new Autism Society of America's Public Service Announcement (PSA) that was animated by Autism Advocate Dani Bowman (DaniMation Entertainment). This 30-second PSA will be shown in over 4,000 AMC Theaters in April, and features how the Autism Society of America is there to provide support throughout the life of an autistic person and their families.
During April, anyone can enter the AGA iPad Mini Sweepstakes through the Autism Guardian Angels Facebook page from April 1 – May 15, 2017, for a chance to win an iPad Mini. This prize was selected because AGA is focused on providing technology tools for autistic children, and iPads have been shown to help autistic children with communication skills. There will be 2 iPad winners awarded (One iPad will be awarded through a random drawing for anyone who enters from the U.S. on social media, and the second iPad will be awarded to an Autfest attendee at the VIP Reception on Sunday night.)
AGA salutes all "Autism Guardians", including parents, family members, loved ones, teachers, therapists, other professionals and supporters. Autism Guardian Angels Chief Marketing Strategist Liz H Kelly is the aunt of an autistic nephew, and active in the autism community. Kelly adds, "We're really passionate about enhancing the lives of autistic children and their guardians. We welcome your ideas and suggestions for products that can make a real difference."
Media Contact: Liz Kelly 310-987-7207
About
Autism Guardian Angels is an investment group focused on raising autism awareness and funding behavioral therapy products for autistic children that are ready for the market now. With approximately 1 percent of the world population on the autism spectrum disorder (CDC 2014), Autism Guardian Angels feels a sense of urgency to get impactful products to the market as soon as possible. For more information about Autism Guardian Angels, visit http://autismguardianangels.com
To enter the AGA iPad Sweepstakes, visit https://www.facebook.com/AutismGuardianAngels
To purchase tickets and see films in Autfest, visit http://autfestasa.com/