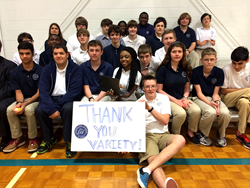 This generous grant from Variety will allow our middle and high school students to utilize Google Apps for Education. Utilizing assistive technology will enhance the students' knowledge, which is imperative in helping our students succeed
Atlanta, Georgia (PRWEB) June 24, 2015
The mission of Atlanta school for Autism, Cumberland Academy of Georgia, is to provide students with a safe, supportive and educational environment, challenging and inspiring them to reach their full potential. The school embraces the use of technology to encourage collaboration and communication, allowing teachers to observe and track student progress. Through generous grants from Variety of Georgia, Cumberland Academy of Georgia has been able to provide all of its high school students and majority of middle school students with Google Chromebooks.
Cumberland obtained the Google Chromebook laptops through two grants from Variety of Georgia, a local chapter of a Variety International. "This organization shares our mission of enriching and improving the lives of children with learning disabilities," explains Debbi Scarborough, founding director of Cumberland Academy of Georgia. "The use of technology in the classroom helps boost confidence and reinforce learning." The grant in 2014 provided Chromebooks for the high school students, and a second grant in 2015 provided the majority of the middle school students with the same assistive technology.
These laptops store data "in the cloud," allowing access from both the school and home. Cumberland has partnered with Google Apps for Education, which gives students and teachers access to the full suite of Google applications, allowing them to create, share and edit files in real time, with all changes saved automatically. "The use of technology in the classroom makes learning more interactive and entertaining, while also helping students get more comfortable working together," shares Scarborough. Currently, Cumberland Academy of Georgia is the only special needs school in the state of Georgia to be a Google Apps for Education school.
The addition of Chromebooks as assistive technology helps students with reading, writing and organizational skills. "This generous grant from Variety will allow our middle and high school students to utilize Google Apps for Education," explains Scarborough, "Utilizing assistive technology will enhance the students' knowledge, which is imperative in helping our students succeed."
About Cumberland Academy of Georgia:
Cumberland Academy of Georgia specializes in the needs of students in grades 4 through 12 who have high-functioning Autism, Asperger's, Attention Deficit Disorder (ADD), Attention Deficit Hyperactivity Disorder (ADHD) and learning disabilities. Cumberland was founded in 2007 by Debbi and Matthew Scarborough, and is a fully-accredited, independent, non-profit school that seeks to provide a safe and supportive academic atmosphere for its students. Cumberland accepts applications year-round. To schedule a family tour, please contact Terri Brooks, Director of Admissions at 404-835-9000 or email admissions(at)cumberlandacademy(dot)org.