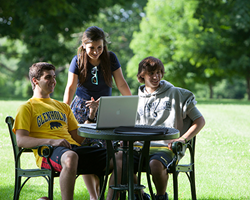 Glenholme has been the best thing for our son. It has changed him for the better. It has taught him independence."
Washington, Connecticut (PRWEB) April 07, 2015
With the turning of the calendar, the nation welcomes April and Autism Awareness Month. After nearly a quarter of a century since its inception, the increase in awareness for young people on the spectrum is now more recognizable than ever. At present, supportive programs for these young people during their school-age years are prevalent all across the nation.
In just few months' time, tens of thousands of young people with autism spectrum disorders (ASD) will graduate from high school. Their parents may often become genuinely bewildered about their child's future as they discover many of the services for their child come to an end, leaving them ill-equipped to attain post-graduate success.
At The Glenholme School, there is a solution. Now in its ninth year, the Glenholme Transition Program assists young people, ages 18-21, affected by ASD, ADHD and various learning differences with their post-secondary endeavors. The program at Glenholme is highly individualized and there is a comprehensive network of supports available to assist students in reaching their personal goals — whether they are career-orientated or college-minded.
The transition coordinator and the staff of talented coaches work with students throughout the day to ensure they are advancing toward their goals and meeting social standards. Students meet with a social worker weekly to discuss concerns, work through any difficulties and maintain focus on their long-term ambitions. Through it all, participants in the Glenholme Transition Program learn higher levels of independence as they gain valuable skills for autonomy.
Learning the right life skills is crucial for the success of these young people. Several of these skills include time management, handling competing demands, making and keeping a schedule, organization and follow-through, strong work ethic, a willingness to learn new roles, and cash management. Students who are involved with internship opportunities develop life skills including job-readiness, applications, resume writing, interview skills, effective communication, and teamwork.
One current participant in Glenholme's Transition Program, Max, discovered his passion for the culinary industry and is finding success. When Max completed high school, his parents were concerned about his next step. Like many parents of young people on the spectrum, they realized their son required a supportive transition program to help prepare him for a more autonomous life.
The team at Glenholme helped Max with his career goals in the culinary industry. Through arranged internships, Max prepared for the next phase of career development— a 12-week certification course through the Community Culinary School of Northwestern Connecticut from which he will graduate in the spring of 2015. Max has also interviewed with and plans to attend the prestigious Culinary Institute in New York City as a commuting student — a significant step forward for Max on his personal path to an independent life. Max and his family were fortunate to find Glenholme's transition program. Many families find they have few or no solutions for their young adult, and are fraught with providing the support themselves — a truly daunting task.
Awareness for the needs of services is not only becoming a national issue of concern, it is global. The recent World Autism Awareness Day on April 2 and the fourth annual "Light It Up Blue Campaign" sparked a global response. Glenholme has been involved with the world-wide effort since 2008, when Maryann Campbell, Glenholme's Executive Director, and Dr. Patrick Queenan, Glenholme's Assistant Director, attended the inaugural World Autism Awareness day Celebration at the United Nation. The campaign emphasizes the challenges faced by millions on the spectrum and their families, how much more must to be done to fathom the depths of this disorder and, more importantly, the hope the international response gives to families. As part of this endeavor to build awareness and change lives, The Glenholme School strives provide quality programs and services in which young people with autism spectrum disorders can overcome their challenges and realize their strengths, talents and ability and learn to lead successful independent lives.
About The Glenholme School:
The Glenholme School, a center of the Devereux organization, is a not-for-profit 501(c)(3) therapeutic boarding school for young people with high functioning autism spectrum disorders including Asperger's; ADHD, OCD, Tourette's, depression, anxiety, and various learning differences. The program provides a treatment milieu designed to build competence socially and academically. Our learning environment supports and enhances the ability for young people with special needs to succeed. Devereux is a leading nonprofit behavioral health organization that supports many of the most underserved and vulnerable members of our communities. For more information about The Glenholme School and its program, visit http://www.theglenholmeschool.org/home.