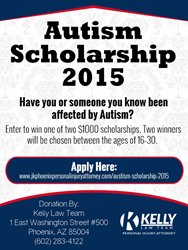 $1,000 Scholarship for Young Adults with Autism
Phoenix, Arizona (PRWEB) March 05, 2015
As part of his continuing efforts to support those who have been diagnosed with Autism, John Kelly and his law firm, the Kelly Law Team have announced that they are seeking applicants for two scholarships, each in the amount of $1,000. The scholarships will provide reimbursement for tuition to a college, community college, trade school, or other similar post-secondary educational institution.
Autism is prevalent throughout the world, and affects one in every 68 babies born in the United States. Of particular note is the fact that 35% of young adults with Autism have neither been employed nor have they received any post-secondary education after leaving high school.
In order to assist in the endeavor to provide additional job and educational opportunities for those with Autism, the Kelly Law Team scholarship program will be open to young adults (age 16-30) who are citizens of the United States or Canada, who have been diagnosed with Autism. Requirements include submission of an original essay (600-850 words, which may include a video) which tells "your story."
To learn more about the scholarships, the application process, and the complete list of requirements, including those relating to applicants under the age of 18, please visit our website at:
http://www.jkphoenixpersonalinjuryattorney.com/autism-scholarship-2015
About the Kelly Law Team
Kelly Law Team was founded by John Kelly, a well-known Phoenix trial lawyer. The firm handles a wide variety of personal injury cases including but not limited to car accidents, slip and fall, medical malpractice, dob bite, product liability and truck accidents.
Kelly Law Team
1 E Washington St, Suite 500
Phoenix, AZ 85004
602-283-4122