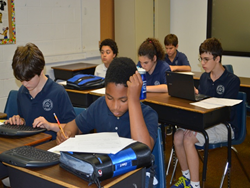 We are so excited to be able to provide our students with the newest advances in technology.
Atlanta, GA (PRWEB) September 23, 2014
Autism school in Atlanta, Cumberland Academy of Georgia, upgraded several of their technological systems this summer for the new school year. Several sponsors donated products, including Sentry Insurance. Sentry contributed brand-new computers to the school, free of charge. These computers were distributed not only to faculty and staff, but also to the computer rooms for the school's younger students.
A few technological upgrades that benefit the high school students at Cumberland are the new Google Chromebooks and Google accounts that have been distributed to them. Google Chromebooks are laptop computers outfitted with the latest technological advances. The laptops complete software updates automatically and power on in a matter of seconds. Students will be able to surf the Internet at lightning-fast speeds and save their work instantaneously with built-in Google Drive. With free virus protection and the ability to have teachers as supervised users, this will truly be an innovation to the students at Cumberland.
Instructors were also treated to advances in educational technology. Classrooms at the school are now equipped with interactive whiteboard systems made by Promethean, a leading education solutions provider. These new systems allow students to interact and engage with the learning material presented to them. The school's instructors have begun to tailor their curriculum to these technological upgrades by changing the way they present material, using programs like Google Classroom and Promethean Planet. They're currently in the long process of going paperless in an effort to help the environment.
"We are so excited to be able to provide our students with the newest advances in technology," said Debbi Scarborough, founding director of Cumberland Academy of Georgia. "The knowledge they will gain when working with this technology will translate to their lives outside of school and help them acquire some of the life skills they need."
About Cumberland Academy of Georgia:
Cumberland Academy of Georgia specializes in the needs of students in grades four through 12 who have high-functioning Autism, Asperger's, Attention Deficit Disorder (ADD), Attention Deficit Hyperactivity Disorder (ADHD) and learning disabilities. Cumberland was founded in 2007 by Debbi and Matthew Scarborough, and is a fully-accredited, independent, non-profit school that seeks to provide a safe and supportive academic atmosphere for its students. Cumberland accepts applications year-round. To schedule a family tour, please contact Terri Brooks, Director of Admissions at 404-835-9000 or send an email to admissions(at)cumberlandacademy(dot)org. To learn more about Cumberland Academy of Georgia, please visit http://www.cumberlandacademy.org.