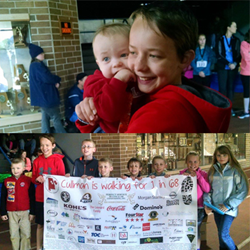 The ASA has done so much for families of autistic children in Alabama, and this charity drive will help raise awareness of the programs and services they offer so families in the area can seek their help
Cullman, AL (PRWEB) June 14, 2016
Colvard Insurance Group, a Birmingham-area insurance provider with offices serving Haleyville, Cullman, and communities throughout northern Alabama, is teaming up with the Autism Society of Alabama in a charity effort aimed at benefitting local families with autistic children.
An all-volunteer non-profit organization, the Autism Society of Alabama has been committed to advocating and providing a voice for families of autistic children for more than twenty years. The ASA works to improve public services for autistic families, as well as providing a host of educational programs for parents of children with all forms of Autism Spectrum Disorders.
"The ASA has done so much for families of autistic children in Alabama, and this charity drive will help raise awareness of the programs and services they offer so families in the area can seek their help," says Clay Colvard, owner and manager of Colvard Insurance Group.
The Colvard Insurance team is reaching out to local families and business owners via social media and email in an effort to gather support and donations that will be used for future ASA programs. Part of the charity outreach effort will also include the production of a full page feature article about the ASA in the upcoming edition of "Our Hometown," a monthly webzine hosted by Colvard Insurance: http://www.colvardinsurance.com/Our-Hometown-Magazine_39.
Recently, Colvard Insurance Group joined the national "Agents of Change" movement, and as such has committed to being involved in community betterment programs. As part of this effort, the firm will be selecting and working with a new Alabama-based charity or cause every other month.
Readers who wish to take part in the Autism Society of Alabama charity event are invited to visit the Colvard Insurance website and make a personal contribution to the cause from this page: http://www.colvardinsurance.com/Helping-Those-With-Autism-Through-Education-And-Advocacy_14_community_cause. Readers who want to read about other charities and causes supported by the Colvard Insurance Group in the past are invited to peruse the firm's Community Causes list: http://www.colvardinsurance.com/community-cause.
About Colvard Insurance Group
Clay Colvard has been managing his insurance agency for years, and his deep connection to northern Alabama gives his team a unique ability to provide clear and understandable insurance and financial services and advice to both businesses and families. Colvard Insurance is here to help you protect the things that are important – your family, home, car, boat and more. Clay and his team can also healp you build a plan to reach your financial goals. To speak with a helpful and knowledgeable expert from the Colvard Insurance Group, please visit http://www.colvardinsurance.com/ or call 256-739-5555.