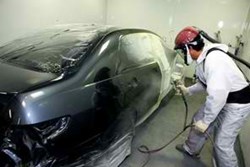 Because they take their work so seriously, they aren't satisfied until every piece is just as perfect as the paint on their own vehicles
Sunnyvale, Ca (PRWEB) November 14, 2013
Da-Les Auto Body, a Sunnyvale auto shop that uses state of the art equipment to repair foreign and domestic vehicles, has just posted a new blog to their website. The blog explains in great detail how the auto body paint experts at Da-Les go about carefully repainting a vehicle that has been involved in an accident.
As the blog notes, the aftermath of a car accident is typically a very stressful, time-consuming and expensive experience for drivers. In addition to being treated for any possible injuries, people must contend with getting their vehicle repaired. The friendly and knowledgeable staff at Da-Les Auto Body Inc. understands how difficult this situation can be, so they do everything they can to alleviate some of the stress drivers are feeling by making sure the damaged vehicle is repaired and repainted to look as good as it did before the accident.
For almost four decades, Da-Les Auto Body has strived to give their customers the best results at the most reasonable prices possible. One way they do this is to constantly update their equipment, technology, methods and processes to be sure repairs are done right the first time.
As the new blog explains, when a car is in an accident, the damaged area is thoroughly checked. In order to restore the factory finish, the experts at Da-Les utilize a high-tech method that involves computer-aided paint matching.
"In this process, the factory finish is analyzed both by eye and by computer," the blog explains, adding that the paint is then carefully mixed, sampled, and tested to ensure a factory match.
"This helps ensure an exact match between the factory paint and the repair work, so the end result is a vehicle that looks like it was never in an accident to begin with."
Once the exact match is made, the blog noted, the paint will be applied to the car with a sophisticated paint system equipped with state-of-the-art sprayers. The painters who operate the equipment are experienced and highly-trained professionals who treat vehicle they work on like a piece of art.
"Because they take their work so seriously, they aren't satisfied until every piece is just as perfect as the paint on their own vehicles," the blog said.
Anybody who would like to learn more about Da-Les Auto Body is welcome to visit the company's website at any time; there, they can read the new blog as well as articles about the variety of services the company offers.
About Da-Les Auto Body:
Da-Les Auto Body caters to foreign and domestic vehicles while utilizing the latest and most advanced collision repair techniques, tools and equipment. They have been named the number one collision repair facility for the past four years by Consumer Business Review. The Certified Green Investment shop has an impressive green program in place and is an award winner from the City of Sunnyvale for "Outstanding Commitment to Environmental Protection." Da-Les serves the Sunnyvale, Santa Clara, Mountain View, San Jose and Milpitas areas. For more information, please visit http://da-lesautobody.com/
Da-Les Auto Body Inc.
728 San Aleso Avenue
Sunnyvale, CA. 94085