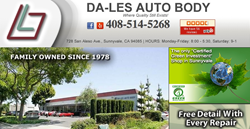 Texting while driving costs thousands of lives and billions of dollars in damages every year, and is the single most preventable cause of accidents, injuries and death while driving
Sunnyvale, CA (PRWEB) May 29, 2014
Da-Les Auto Body, a full service auto body vehicle repair business located in Sunnyvale, Calif., has just posted a new blog to its site that is devoted to the very important topic of safe driving, including why people should never even think about texting while driving. The new blog is just part of a new public service campaign that Da-Les will release in the near future. Da-Les has asked other business's to share the hashtag #avoidthetext.
The timing for the new article and the PSA is ideal; summer vacation is just around the corner and more people than ever will be on the roads. By educating everyone about California driving laws regarding texting and the importance of keeping the thumbs on the steering wheel and not the cell phone, the auto body repair shop hopes to help keep drivers of all ages as safe as possible.
As the new blog notes, with over 40 years in the automotive repair and body business, Da-Les Auto Body is extremely knowledgeable about car accidents. Sadly, they have often seen first-hand just how devastating they can be to both the car and the driver. In many cases, the owners said, car accidents are preventable. In an effort to reduce the number of people who are injured or killed in auto accidents, the State of California has passed a series of laws that are aimed at preventing distracted driving. One of the most important parts of this legislation is aimed at stopping teen drivers from texting while they are behind the wheel.
For example, as part of the Avoid the text campaign, the State of California has passed a law stating that teens may not read, write or send texts while they are driving, even if they are using a hands-free device. The new law, which went into effect on January 1, 2014, will fine teens $20 for the first violation and $50 for each offense thereafter. The exception to this rule is if a teen is texting for help in the case of an emergency.
"As an auto body repair shop that prides itself on great customer service and excellent results, we at Da-Les hope you'll come to us if you find yourself in need of car repairs," the new blog noted, adding that they also hope that people will never need their services due to their unsafe behavior behind the wheel.
"Texting while driving costs thousands of lives and billions of dollars in damages every year, and is the single most preventable cause of accidents, injuries and death while driving. We'd rather see you and your family safe and healthy than see you in our shop."
About Da-Les Auto Body:
Da-Les Auto Body is located at 728 San Aleso Avenue Sunnyvale, CA 94085 (contact phone number 408-734-3100). It is a full service repair facility that caters to foreign and domestic vehicles while utilizing the latest and most advanced collision repair techniques, tools and equipment. They have been named the number one collision repair facility for the past four years by Consumer Business Review. The Certified Green Investment shop has an impressive green program in place and is an award winner from the City of Sunnyvale for "Outstanding Commitment to Environmental Protection." Da-Les serves the Sunnyvale, Santa Clara, Mountain View, San Jose and Milpitas areas. For more information, please visit http://da-lesautobody.com/.
Da-Les Auto Body Inc.
728 San Aleso Ave.
Sunnyvale, CA 94085