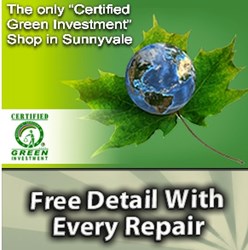 There is nothing 'ordinary' about auto body collision repair businesses such as Da-Les Auto Body that are involved in the I-CAR (R) training program
Sunnyvale, Ca (PRWEB) August 28, 2013
Da-Les Auto Body, a Sunnyvale foreign and domestic auto body repair shop, recently posted a new blog entry discussing I-CAR (R) certification. In addition to explaining the basics of the I-CAR (R) approach, the auto body shop blog discusses the company's dedication to upholding I-CAR (R) standards.
According to the blog post, located at http://da-lesautobody.com/auto-body-shop-maintains-highest-level-of-industry-certification-availble/, the main goal of the I-CAR (R) approach is to complete safe repairs that ultimately benefit the customer. As a result, the I-CAR (R) organization is well known for its thorough programs that help trainees develop the important skills necessary for their careers in the collision repair industry. I-CAR (R) students learn five important concepts during their time in the program—integrity, relevance, collaboration, expertise, and excellence—before earning their status as a Gold Class Professional, the highest distinction in the collision industry.
Da-Les Auto Body is recognized as a Gold Class auto repair shop. To achieve this distinction, four key employees have to be Role Reps who achieved Platinum Status as a Refinish Technician, Steel Structural Technician, Non-Structural Technician, and Estimator.
The Role Reps of Da-Les Auto renew their Gold Class statuses regularly by completing Knowledge Area training requirements in the I-CAR (R) Professional Development Program. Other employees involved in the collision repair workshop take credit hours of training as well.
"There is nothing 'ordinary' about auto body collision repair businesses such as Da-Les Auto Body that are involved in the I-CAR (R) training program," stated the blog post. "It is the seal of approval that means each and every job is handled with extreme precision and the ultimate in care."
Da-Les Auto Body is an auto body shop in Sunnyvale that specializes in repairing, painting, and detailing foreign and domestic vehicles. The company works with a variety of insurances—such as AAA, Geico, and State Farm—to meet the needs of its customers. Da-Les Auto Body's Yelp reviews are available for viewing online.
Individuals interested in learning more about Da-Les Auto Body and its work can visit the company's website for more information.
About Da-Les Auto Body:
Da-Les Auto Body caters to foreign and domestic vehicles by utilizing the latest and most advanced collision repair techniques, tools and equipment. They have been named the number one collision repair facility for the past four years by Consumer Business Review. The Certified Green Investment shop has an impressive green program in place and is an award winner from the City of Sunnyvale for "Outstanding Commitment to Environmental Protection." Da-Les serves the Sunnyvale, Santa Clara, Mountain View, San Jose and Milpitas areas. For more information, please visit http://da-lesautobody.com
728 San Aleso Avenue
Sunnyvale, CA 93085
(408) 734-3100