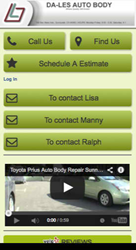 The mobile app is great for letting our clients know when their vehicles are ready, but it also helps keep you advised of potential problems in the process.
Sunnyvale, CA (PRWEB) July 17, 2014
Da-Les Auto Body, a reputable full service repair facility located in Sunnyvale, Calif., has just announced that they have just finished upgrading their innovative mobile website app. As a new blog on the company's website explains, the owners of Da-Les Auto Body know that in order to stay as competitive as possible, it is important that they stay abreast of the latest advances in technology.
While making an appointment for service at the auto body shop has traditionally meant making a phone call, the owners understand that both times and preferred methods of communication are changing, and many people would rather contact them directly through a handy app on their tablet or smartphone.
"At our clients' request, we have invested in an updated mobile website with the latest in encryption and security technology as well as some applications not commonly applied to the auto repair market right now," the new blog explained, adding that the owners of Da-Les Auto Body feel that it's better to be a trendsetter than a trend follower, and they are confident their clients will appreciate the extra effort and care they are taking to make sure they know what's going on with their vehicle.
In addition to providing the contact information for the repair facility, the new mobile website allows customers to quickly and effortlessly schedule an appointment for an estimate, contact several employees directly, and read reviews from satisfied customers—all with a few quick swipes on their mobile device's screen.
The new mobile app also works directly with the auto body repair process at Da-Les. After conducting a thorough inspection of the car or truck, the experienced and knowledgeable employees at Da-Les Auto Body will produce an estimate of how much it will cost to fix the vehicle. After the customer authorizes the repairs, the team at Da-Les gets busy using its state-of-the-art laser-guided frame measuring tool to help make sure the restoration is done exactly right. Once the vehicle's frame has been repaired, it is carefully painted to look like it just rolled out of the showroom.
"The mobile app is great for letting our clients know when their vehicles are ready, but it also helps keep you advised of potential problems in the process," the blog noted, adding that although these problems are relatively rare, they may include delays in insurance processing, backordered parts, or damages that exceed the initial estimate.
"If it's going to be a problem or cause delays, we can make sure you and your insurance company are aware right away through the app."
About Da-Les Auto Body:
Da-Les Auto Body is located at 728 San Aleso Avenue Sunnyvale, CA 94085 (contact phone number 408-734-3100). It is a full service repair facility that caters to foreign and domestic vehicles while utilizing the latest and most advanced collision repair techniques, tools and equipment. They have been named the number one collision repair facility for the past four years by Consumer Business Review. The Certified Green Investment shop has an impressive green program in place and is an award winner from the City of Sunnyvale for "Outstanding Commitment to Environmental Protection." Da-Les serves the Sunnyvale, Santa Clara, Mountain View, San Jose and Milpitas areas. For more information, please visit http://da-lesautobody.com/.
Da-Les Auto Body Inc.
728 San Aleso Ave.
Sunnyvale, Ca. 94085