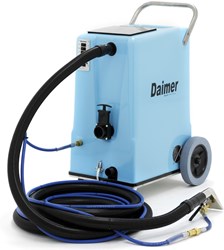 Daimer® is extremely proud to offer the car detailing industry one of the best steam cleaners in its class, the XTreme Power® XPH-6400IU.
Woburn, MA (PRWEB) September 20, 2013
Daimer Industries, Inc.®, the world's leading supplier of American brand of advanced carpet cleaning machines, including reliable truck mount carpet cleaners and carpet steam cleaners, and other advanced cleaning technologies, is now shipping the XTreme Power® XPH-6400IU for auto detailing professionals. At 170 PSI, the versatile auto carpet cleaner offers the highest pressure level than any other user-friendly portable steam car wash equipment in its class. Auto detailing professionals can benefit from the high temperatures, fast drying times, and quicker heating times offered by this auto detailing specialist.
"Maintaining the highest standards of service and performance in the car detailing business is imperative due to the highly competitive niche within which the operators compete," says Daimer Industries, Inc.® spokesperson, Matthew Baratta. "Daimer® is extremely proud to offer the car detailing industry one of the best steam cleaners in its class, the XTreme Power® XPH-6400IU. The powerful car detailing specialist is capable of performing a range of functions, including upholstery and carpet maintenance, and car interior detailing. Auto detailing business owners are going to love this simple-to-use yet rugged detailing system."
The powerful, XPH-6400IU auto detailing equipment generates temperatures as high as 210º F to quickly remove a variety of stains and deposits on car carpets, fabrics, upholstery, and seats. The presence of two inline heating elements allows the carpet cleaner to reach optimum temperature levels within just five minutes.
The auto carpet cleaner comes with Daimer®'s special advanced, adjustable temperature control feature for handling different kinds of cleaning applications in any top class auto detailing business. Carpets and upholstery made of natural fibers can be cleaned without heat. The machine's temperature setting can be easily changed to higher levels for cleaning synthetic carpets. The company's patented low-flow technology found on Daimer® carpet upholstery cleaners allows for effective, powerful and efficient cleaning by using minimal quantity of water.
The auto carpet cleaner features a 10 gallon solution tank and a 10 gallon recovery tank with an easy disposal arrangement. Operators have to simply pull a latch to let the waste water empty into a bucket or a legal drain. Daimer®'s long 25 foot hoses allow operators to cover wider areas of the car detailing facility without having to move the cleaning system.
Daimer® offers a 12 inch patented, adjustable carpet cleaner wand with the portable steam car wash system for enhanced cleaning. Optional wands for stair and upholstery cleaning are also available from the company on request.
Daimer® suggests that operators pre-spray carpets and fabric upholstery with liquids like the company's soap-free Eco-Green® Carpet Care and Upholstery Cleaner instead of using harsh detergents and chemicals. Two gallons of the eco-friendly solution are offered for free with every shipment of the XTreme Power® XPH-6400IU by the company during its promotion.
For Additional Information:
Discover more about these high-powered car wash systems by either visiting the company's website or by calling Matthew Baratta at (888) 507-2220. Daimer® cleaning systems are exported to most countries worldwide.
About Daimer Industries, Inc.®:
Daimer Industries, Inc.® is the internationally leading supplier of over 600 models of the industry's most diversified cleaning machines, such as portable commercial carpet cleaning machines, rugged versatile commercial carpet shampooers. steam vapor systems, high extraction water damage restoration equipment, multi-functional commercial car wash equipment, van or truck mount carpet cleaners, pressure washer equipment, and others with advanced technologies for applications, such as tile and grout cleaning, floor cleaning, pressure washing, and many more for worldwide use.
Watch Videos: http://www.youtube.com/Daimerindustries