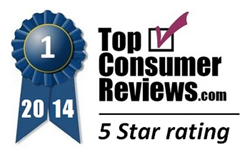 We're excited to receive TopConsumerReviews.com's highest rating... (we're) proud to be recognized for our efforts.
Overland Park, KS (PRWEB) April 17, 2014
TopConsumerReviews.com recently awarded their highest five-star rating to CARCHEX, an industry leader in Auto Insurance.
"We're excited to receive TopConsumerReviews.com's highest rating," said Jason Goldsmith, CEO for CARCHEX. "We've worked hard to provide insurance shoppers a one stop shop to quickly and painlessly identify the best coverage for them, at the best rate. Our CARCHEX insurance agents have access to several major insurance carriers and can do all the research needed. As with any of our CARCHEX products, our focus is providing top customer service to people nationwide. We have designed our user friendly website with the customer in mind, and are proud to be recognized for our efforts."
Auto insurance is an ever changing market. The days of visiting an obnoxious insurance agent in a cramped office are a thing of the past. Today, finding the best auto insurance to meet ones specific financial needs is as simple as a few clicks on a website. Insurance brokers are especially qualified at finding the best, most cost effective insurance policy available to meet a customer's particular needs. This allows the insurance shopper to avoid inconvenient visits or phone calls to various insurance companies to sort through and identify the best coverage and rates for their needs.
"CARCHEX offers auto insurance available in all 50 states to drivers with varying driving records, "explained Brian Dolezal, of TopConsumerReviews.com. "CARCHEX works with a number of reputable insurance companies to help you find the best rates available. In addition, when speaking to CARCHEX, insurance shoppers will appreciate the knowledge of an impartial agent that is able to weigh the pros and cons of several policies at once. CARCHEX also comes with an A+ perfect rating from the Better Business Bureau. Their commitment to finding the best auto insurance for their customers has earned them our highest rating."
To find out more about CARCHEX and other auto insurance companies, including reviews and comparison rankings, please visit the Auto Insurance category of TopConsumerReviews.com at http://www.topconsumerreviews.com/auto-insurance/.
About CARCHEX
Headquartered in Hunt Valley, Md., CARCHEX is the premier provider of Extended Vehicle Protection (commonly referred to as Extended Auto Warranties) and Mobile Vehicle Inspections. As the preferred partner to the most trusted names in the automotive industry including Carfax, Kelley Blue Book, Cars.com, LendingTree Autos and many more, CARCHEX provides customized coverage plans that allow consumers whose factory warranty has expired to get the highest level of protection for their vehicle at the most competitive price. A decade-long commitment to protecting automotive consumers and providing exceptional customer service has translated into an A+ Rating by the Better Business Bureau.
About TopConsumerReviews.com
TopConsumerReviews.com is a leading provider of independent reviews and rankings of hundreds of consumer products and services. From auto insurance to car loans and travel insurance, TopConsumerReviews.com delivers in-depth product evaluations in order to make purchasing decisions easier.