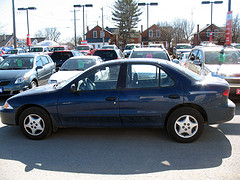 We specialize in acquiring automotive parts leads for junk yards, body shops and dismantlers of components to help save companies time and money
Chicago, IL (PRWEB) August 21, 2015
Automotive related businesses that depend on fresh leads for new consumers will now be able to take advantage of new services being offered at the BrianHanson.com company. Auto parts lead generation is now part of the 2015 packages for business owners. More information about this new service is available at http://brianhanson.com/auto-parts-lead-generation.
The new leads generating strategies that are part of the service packages for this year include revised digital marketing. By qualifying each of the leads that are generated, the BrianHanson.com company is now able to send higher quality lead counts to business owners that are part of its client network in the USA and Canada.
"We specialize in acquiring automotive parts leads for junk yards, body shops and dismantlers of components to help save companies time and money," said one marketing expert at the BrianHanson.com company.
The auto components leads package that is now setup can be organized through a virtual process. Because the actual numbers for daily lead generation can fluctuate, business owners are only charged a flat monthly fee. Shop owners that require crate, used, new or remanufactured car parts buyers will benefit the most from the revised services.
"We have generated more than 12,000 leads as of June 2015 for our current clients, and we expect to double this amount before the close of the year," added the marketing expert.
The Brian Hanson company is now expanding into other markets nationally to help companies build more revenue through marketing solutions. Additional service packages will be included as add-ons later this year.
About BrianHanson.com
The BrianHanson.com company generates thousands of marketing leads for small business owners in the United States and Canada each year. The company owns several hundred websites that are used to generate sales for company clients. The BrianHanson.com company is now offering new packages in 2015 for business owners to take advantage of its expert marketing solutions.