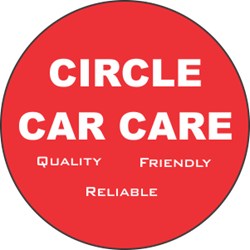 We stand behind our repairs offering honest and competitive pricing
Hollywood, FL (PRWEB) October 15, 2014
During its quarter of a century of delivering comprehensive Auto Services and Auto Repairs to a wide cross-section of businesses and individuals, Circle Car Care boasts strong South Florida community ties and numerous satisfied, loyal clients who refer the auto care company without hesitation.
Located strategically between Miami and Fort Lauderdale, Circle Car Care is easily accessible and conveniently positioned. The well-established Auto Service and Auto Repair facility is fully equipped with state-of-the art resources. A keen interest is taken in computer technology, modern technologically advanced automotive service and repair devices, particularly automotive diagnostic tools. One can expect Laser Alignment Machines, Snap on Scanners with lab scope, T-Tech Transmission Flushing System, and other new equipment.
Circle Car Care is a full-fledged ASE certified company, offering an all embracing list of automotive services, performed by trained, licensed mechanics. The company stands behind its Auto Repairs 100%. The fact that Circle Car Care has been able to retain the majority of the clients who chose the company in 1989 at its inception tells its success story clearly. Published testimonials mention the exceptional customer service which is assured to all, whether a routine Auto Service is required or a complicated restoration project. In the words of the congenial Manager: "We built this business on referrals, good old fashioned word of mouth!"
The range of services offered by Circle Car Care spans the whole range found in the most sophisticated cities of the world. There is no Auto Service or Auto Repair which the impressive work shop is unprepared for: Power Window and Door Lock Repair, EFI (Electronic Fuel injection), ABS (Anti-Lock Brake System), Clutch/Transmission/Brake Repair, Wheel Alignment, Radiator Service, Tire Sales, Mounting, Balancing, Steering Suspension Service, Air-Conditioning Service and Repair, Electrical Diagnosis and Repairs, Timing Belt Inspection/ Replacement. Routine services like oil changes and tune-ups are available. All services are on the company's well laid out and user-friendly Website.
Focused on high ideals, Circle Car Care reminds that it was the concept of ethical business dealings, upon which the reputable Auto Service/Auto Repair facility was founded. It lists with deep pride, safety, reliability, and sound environmental practices as some of its treasured hallmarks. Given the feedback from its many clients, the company is fulfilling its mandate responsibly and living up to high expectations. Car Circle Care tells vehicle owners that it is more economical to attend to Auto Servicing as early as possible. There is no replacement for Preventive Service. In the interest of safety, regular Auto Maintenance should be a priority. One saves substantial amounts of money through early fault detection and immediate repair.
It does not matter what size, shape, model, make and year of manufacture a vehicle is; all vehicles are serviced. Clients bring a range of vehicles: cars, trucks, vans, motorcycles. Even old school air cooled Volkswagens are skillfully handled; few repair shops accept these. Circle Car Care, while competent with all vehicles, has expertise and extensive knowledge as regards American and European vehicles, of all models and brands. The dedicated mechanics at Circle Car Care excel at Chevy, Ford, Toyota, Honda, Nissan, and Lexus.
Not many Auto Service/Auto Repair companies are as communicative as Circle Car Care. All work to be performed on any vehicle is explained face-to-face in the terms of a layman, and in writing. Quality control and safety procedures are enforced. Circle Car Care offers advantages to repeat clients and new clients. Free price quotes and inspections are quickly forthcoming and accurate. New clients receive a special discount coupon, printable online. Circle Car Care offers a one year Manufacturer Warranty on parts and 90 days on labor, unless otherwise specified. There is no doubt, that the extras and perks, coupled with unmatched Auto Services and durable long-lasting Auto Repairs, combine to make the company the preferred choice for Auto Service. Clients living/ working within 5 miles of Circle Car Care are offered a ride back home or to work, when they bring in vehicles. Clients come from far and wide and consider it no inconvenience to drive several miles, in some cases.
Circle Car Care, founded in 1989, is a full-service licensed automotive mechanic shop, holding Mac AC Recycling Certification. It is an authorized AC Delco Repair Facility. The company is well-respected for friendly Auto Service, talented mechanics and engineers and a strong commitment to quality.
For information on the news in this release, contact:
Ira Willner
Email: iwillner(at)bellsouth(dot)net
Phone: (954) 925-8058
Website: http://www.circlecarcare.com